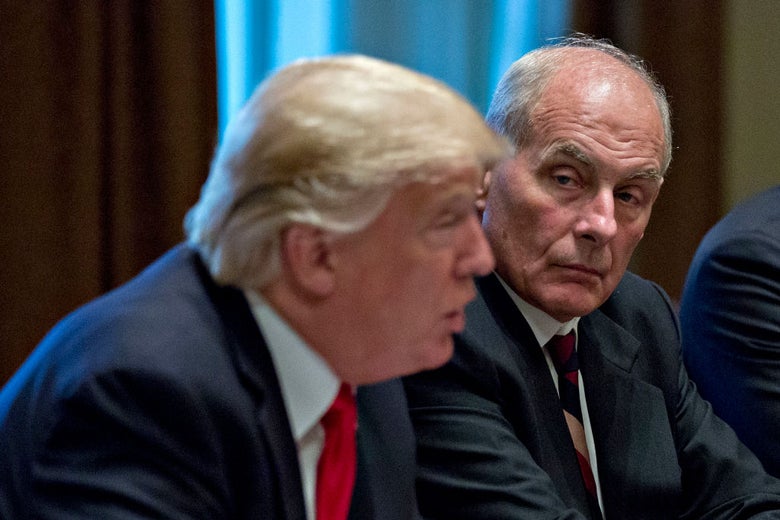 What an idiot.
Courtesy of
NBC News
:
White House chief of staff John Kelly has eroded morale in the West Wing in recent months with comments to aides that include insulting the president's intelligence and casting himself as the savior of the country, according to eight current and former White House officials.
The officials said Kelly portrays himself to Trump administration aides as the lone bulwark against catastrophe, curbing the erratic urges of a president who has a questionable grasp on policy issues and the functions of government. He has referred to Trump as "an idiot" multiple times to underscore his point, according to four officials who say they've witnessed the comments.
Officials said Kelly's public image as a retired four-star general instilling discipline on a chaotic White House and an impulsive president belies what they describe as the undisciplined and indiscreet approach he's employed as chief of staff. The private manner aides describe may shed new light on why Kelly now finds himself — just nine months into the job — grappling with diminished influence and a drumbeat of questions about how long he'll remain at the White House.
"He says stuff you can't believe," said one senior White House official. "He'll say it and you think, 'That is not what you should be saying.'"
Of course since this story broke earlier today
Kelly has issued a statement
pushing back on the allegations:
"I am committed to our President, his agenda, and our country. This is another pathetic attempt to smear people close to President Trump and distract from the administration's many successes."
Yeah, okay.
This is not the first time that we have heard that there is tension between Trump and his chief of staff, and apparently Kelly has been greatly marginalized as of late.
And also according to NBC News Kelly's negative remarks about the president are not the only thing that puts his job in jeopardy:
Current and former White House officials said Kelly has at times made remarks that have rattled female staffers. Kelly has told aides multiple times that women are more emotional than men, including at least once in front of the president, four current and former officials said.
And during a firestorm in February over accusations of domestic abuse against then-White House staff secretary Rob Porter, Kelly wondered aloud how much more Porter would have to endure before his honor could be restored, according to three officials who were present for the comments. He also questioned why Porter's ex-wives wouldn't just move on based on the information he said he had about his marriages, the officials said.
Some current and former White House officials said they expect Kelly to leave by July, his one-year mark. But others say it's anyone's guess. What's clear is both Trump and Kelly seem to have tired of each other.
Move over Rex Tillerson it looks like you are about to have a little company in the "We Just Got Shitcanned Hotel."