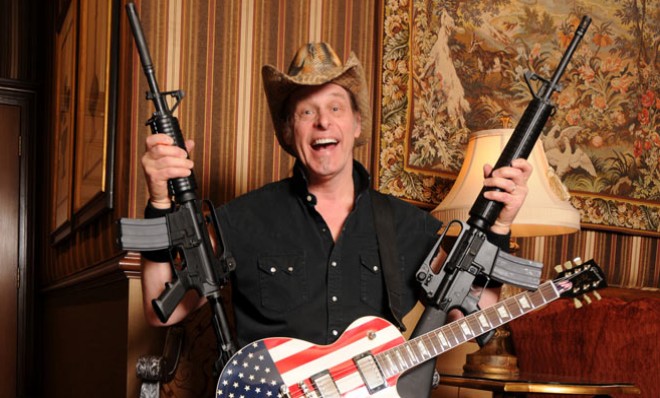 Courtesy of
AOL
:
A Native American tribe has canceled an Aug. 4 concert by Ted Nugent at its casino.
The Coeur d'Alene Tribe on Monday said that the cancellation of the concert at the casino in the northwest Idaho city of Worley was because of the rocker's "racist and hate-filled remarks."
The tribe says it booked Nugent without realizing he espoused "racist attitudes and views." The tribe did not detail which of Nugent's specific views it opposes.
Okay first off I am surprised that AOL is still operating. I thought they went the way of the floppy disk.
Second how could somebody NOT know that old poopy pants was a racist?
And what clued them in?
Was it calling President Obama a "
subhuman mongrel
?"
Was it when he referred to murdered teen Trayvon Martin as a "
Dope smoking, racist, gangsta wannabe?
"
Or was it perhaps when he referred to REAl Americans as "
working hard, playing hard, white motherfucking shit kickers, who are independent and get up in the morning?
"
Well whatever it was aren't we glad that the Coeur d'Alene Tribe finally managed to get Nugent's number and kick him the hell out of their casino?
I imagine there are many more cancelled gigs coming his way.