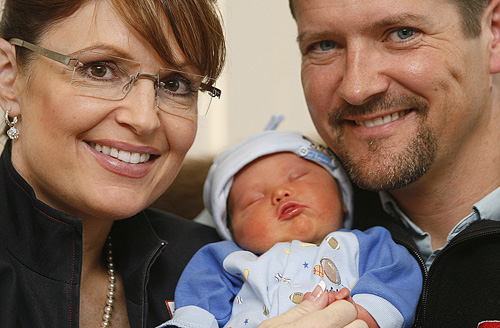 Trig, the enigma, is introduced to the world.
Teagan Cole, Sarah's best friend Kristan's daughter, holding "Trig?"
Five months later all deformities are gone.
Best buds!
Time to make an appearance, and put those internet rumors to rest.
Wow, four years! Has it really been that long?
I guess time flies when you are trying to piece together a puzzle with ever evolving pieces to work with, don'tcha know?
I think I can safely say that I have come about as close to solving this mystery as anybody on the planet.
I do in fact know, with absolutely no doubt, that Sarah Palin did not give birth to Trig on April 18, 2008 at the Mat-Su Regional Medical Center. (I even have a fair idea as to how the ruse was pulled off.)
I am also convinced that we have seen more than one baby standing in for Trig.
And as you know I don't believe that Bristol is the mother of the child that we now know to be Trig Paxson Van Palin.
Still there are more questions yet to be answered. The biggest one being exactly WHY there was this fake pregnancy? I have some theories, and I have discounted many more, but I have to admit that I am not certain of the motive. In fact part of me thinks the motive, much like the babies, evolved over time.
One of the questions I get asked all of the time is, "Do you think this scandal will EVER be revealed to the public?"
And my answer is always "yes," in fact in many ways it already has been revealed. The only part that is really left is to PROVE it.
And THAT is proving to be a MUCH more difficult undertaking. Though I still have a few irons in the fire which may accomplish that very goal. Hopefully.
However for today I simply hope that Trig has the BEST birthday ever (And no I DON'T believe today is his real birthday! But it IS the one they celebrate.), and that he is well cared for and loved. Because regardless of why he is part of the Palin family, the fact remains that he is. And he deserves our best wishes and hope for the future.
Because as we know being in close proximity to Sarah Palin can be poisonous to ANYONE, and little Trig may be particularly vulnerable.