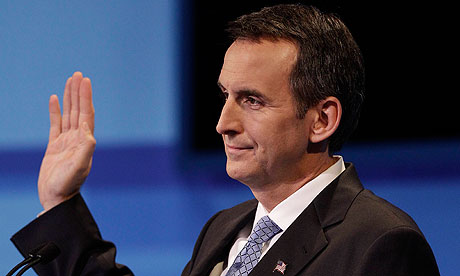 "Fuck this, I'm gone!"
Courtesy of
Yahoo News
:
Tim Pawlenty quit as co-chair of Mitt Romney's presidential campaign on Thursday to become one of Wall Street's top lobbyists in Washington. Pawlenty, a former governor of Minnesota, will lead the Financial Services Roundtable.
The move came with Romney's campaign struggling to find its stride with just seven weeks left before Election Day. Polls show the former Massachusetts governor running neck and neck with President Barack Obama in a contest both sides predict will be very close. But Romney's campaign has been grappling with a video showing him seemingly writing off Obama supporters as having a "victim" mindset and being reliant on government handouts. And Republicans outside the campaign have been grumbling that the campaign needs a shot in the arm.
"It is an honor to call Mitt and Ann my friends," Pawlenty said in a written statement released by the Romney campaign. "As the campaign moves into the home stretch, he has my full support and continued faith in his vision and his policies."
I have been listening to a few pundits trying to suggest that this is no big deal, and that it happens all of the time to campaigns, but that is just bullshit.
It happens to campaigns that are doomed!
If Tim Pawlenty thought that Romney had a Mormon snowball's chance in Christian hell of winning this election, he would hang on for dear life to Mitt the Twit's coattails in the hopes of scoring one of those sweet Cabinet positions. Perhaps Secretary of the Beige Interior, or something fitting like that.
Look, clearly Pawlenty is one of the smarter rats jumping this sinking ship, hoping that he can swim far enough away to not get caught in the vortex it creates as it slips beneath the icy waves of the "Sea of Crushed Political Aspirations," but I seriously doubt he will be the LAST rat to flee.
"Swim faster T-Paw it's going down fast!"