A few days after the election a number of tweets came my way stating that the biggest swing toward Obama in this election cycle, as compared to last, was in my own deeply red state of Alaska.
And in fact that turned out to be true in that only 38% of the vote went to Obama in 2008, while McCain/Palin walked away with 59%, and this year Obama captured 41% to Romney's 55%.
While that may seem somewhat predictable, since last time Alaska had its own Governor, Sarah Palin, on the ticket, it was also revealed that in fact in THIS election the Democrats received the highest percentage of the vote since 1964, which was the only year Alaska's three electoral points went to the Democratic candidate. (Way to go President Johnson!)
I found THIS to be extremely satisfying, and gives me great hope for the future.
Just to illustrate how big of a change this is, take a look at a couple of maps put together over at the
Daily Kos
: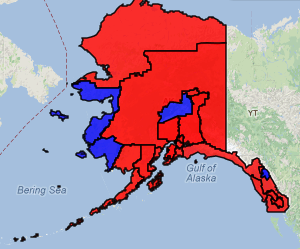 Here is the 2008 map. See how much red there is across the state?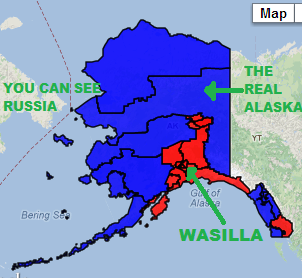 Now compare that with this years map of the various voting districts.
Now you may ask how in the world Romney got our electoral votes with so much of the state covered in blue, but that is because no body in their right mind lives out there where it is blue.
In fact THAT is where the indigenous people of Alaska live.
You know the REAL Alaskans. The ones who were virtually abandoned by their Governor when they needed her help, and who are learning the hard way that the Republican party is very friendly when there is oil under their property, but when it comes to respecting their rights, or helping them in times of trouble, they cannot even get a return phone call.
Clearly Alaska has a long way to go before we can celebrate our return to the progress ideals of our past, but I have to say that the trend is certainly looking good.
(Alaska
voting history
, and this years
election map
, for reference.)