Courtesy of
The Nation
:
It was ten years ago tonight that the Dixie Chicks, extremely popular then and far from controversial, caused a massive stir when singer Natalie Maines declared on stage in London: "Just so you know, we're on the good side with y'all. We do not want this war, this violence, and we're ashamed that the president of the United States is from Texas." It was a little more than a week before their fellow Texan launched a war based on lies.
Of course, hatred was quickly spewed in the Chicks' direction by media types, political figures and country music yahoos—who never then or now get so excited when right-wing entertainers and media celebs make threats against a Democratic president.
Boycotts were immediately announced. Maines clarified two days later, "I feel the president is ignoring the opinions of many in the US and alienating the rest of the world." But record sales and advance sales of concert tickets plunged.
Maines then issued an apology, of sorts: "As a concerned American citizen, I apologize to President Bush because my remark was disrespectful. I feel that whoever holds that office should be treated with the utmost respect. We are currently in Europe and witnessing a huge anti-American sentiment as a result of the perceived rush to war. While war may remain a viable option, as a mother, I just want to see every possible alternative exhausted before children and American soldiers' lives are lost. I love my country. I am a proud American."
But President Bush argued: "The Dixie Chicks are free to speak their mind. They can say what they want to say.… they shouldn't have their feelings hurt just because some people don't want to buy their records when they speak out.… Freedom is a two-way street …."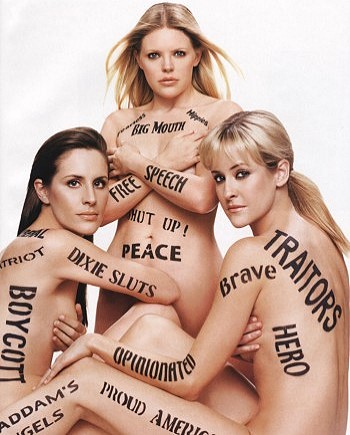 The Chicks then poted semi-nude on the cover of Entertainment Weekly with words they had been called slightly covering them, e.g., "Dixie Sluts." But their career would never be the same. Meanwhile, more than 4,000 American troops and more than a 125,000 Iraqis would die in a war based on lies. See my new book, So Wrong for So Long, for much more on the war and media malpractice.
I have a deep an abiding dislike for Country music, most probably because my father forced me to listen to it non-stop when I lived with him, but after hearing the Dixie Chicks speak up and watching the attacks leveled against them I ran right out and bought their album just to show my support fro their courage.
I was still a year away from launching this blog but of course I shared the same feelings expressed by Dixie Chicks and was VERY impressed that they had the, if you will pardon the expression, balls to say it out loud when so many celebrities were terrified of being ostracized for speaking out against the war or the President who was lying us into it.
And the fact that they represented country music, the most "Red, White, and fuck you if you don't like America" entertainment industry in the country, just make them all the more impressive.
I dislike President Bush for so many things that it would take me hours to rattle them off here, but definitely on that list was his passive aggressive response to the ugly and uncalled for attacks on these brave women.
And the important thing to remember, is that THEY were right. And if the media had been doing its job, they would not have had to stand out there alone taking all of the heat for so many others too cowardly to stand beside them.