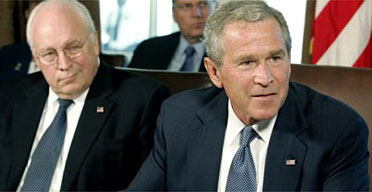 "Yeah, so we broke the law and used torture, What are ya gonna do about it?"
Courtesy of
Raw Story
:
A nonpartisan group led by a former top Bush administration official concluded a two-year review on Tuesday that finds the former president and his top advisers knowingly ordered interrogation techniques that U.S. officials have previously referred to as torture.
"After conducting our own two-year investigation, weighing the credibility of all sources and studying the current public record, we have come to the regrettable, but unavoidable, conclusion that the United States did indeed engage in conduct that is clearly torture," former Rep. Asa Hutchinson (R-AR), who served as undersecretary of the Department of Homeland Security during the Bush administration, said in an advisory.
The 577-page review, put together by the advocacy group The Constitution Project, includes interviews with dozens of people who have first-hand knowledge of the discussions about interrogation techniques and their implementation. Although Bush administration loyalists said at the time that "enhanced interrogation tactics" like stress positions, waterboarding, mock executions, sensory deprivation and prolonged diapering were not torture, this report aims to specifically and finally emphasize that these activities meet the clinical definition of "torture."
"As long as the debate continues, so too does the possibility that the United States could again engage in torture," the report says, according to The New York Times, which received an advance copy.
"What sets the United States apart as a world leader, in addition to our military might, are our values and respect for the rule of law. All the available evidence led us to conclude that, for many of these detainees, the U.S. violated both international law and treaties and our own laws, greatly diminishing America's ability to forge important alliances around the world," former Rep. James R. Jones (D-OK) added in the group's advisory.
The report also notes dozens of instances in which U.S. officials and U.S courts treated similar tactics as torture when applied to U.S. persons, and urges the Obama administration to declassify a 6,000-page Senate report on the extent of torture's use during the Bush years.
"This has not been an easy inquiry for me, because I know many of the players," Hutchinson told The New York Times. "But I just think we learn from history. It's incredibly important to have an accurate account not just of what happened but of how decisions were made."
Okay so now that this report is finished and it leaves NO doubt that the Bush administration engaged in criminal activities. let's have the whole slimy bunch of them arrested for treason.
All criminal investigations into the Bush torture program have been called off by the Obama administration.
Fuck!
So nothing. These bastards destroy our reputation, lie us into two unnecessary wars, spy on our citizens, and damn near near bankrupt the country, and nothing happens to them?
No of course not. But just let President Obama fail to leave a tip after eating lunch and the impeachment hearings will commence posthaste.
Fucking Republicans!