Courtesy of the
Miami Herald
:
Lately, a strange shift has occurred among female politicians as they have resorted to flexing their womb-manhood. Rather than try to out-man the men, women have begun to celebrate — or exploit in some cases — their higher purpose.
This brings us unavoidably to Sarah Palin, who reminded us recently that fertility is the ultimate trump card.
To be fair, Jeb Bush started it. He was attempting to explain the need for immigration reform as an economic argument. That is, we need an influx of immigrants — WHO TEND TO HAVE LARGER FAMILIES — to counter native-born Americans' low birthrates. Our current rate isn't sufficient to keep our nation's economic engine running competitively.
This is a legitimate argument, most forcefully advanced by Douglas Holtz-Eakin, Republican economic adviser and former director of the Congressional Budget Office under George W. Bush. Alas, Jeb Bush inartfully said we need immigrants because they are more "fertile," which sounds an awful lot like, "Hotahmighty, those people can't tie their shoes without getting pregnant."
One is permitted a certain number of verbal pratfalls in public life, a bit of latitude Palin should appreciate. But Mama Grizzly came roaring out at Bush during a speech at one of those confabs where faith-and-freedom lovers assemble to flex their moral superiority. She not only scolded the third Bush for speaking in such terms but reminded the audience of her own bona fides in the matter.
"I say this as someone who's kind of fertile herself."
As though anyone could forget.
In an earlier speech in May at the Conservative Political Action Conference, Palin drew applause with a quip about her marital virtuosity. For Christmas, she gave husband Todd a gun, and he gave her a gun case for the four-wheeler, and …
"He's got the rifle; I got the rack."
Oh, chortle chortle. Palin is nothing if not fertile.
Or perhaps more accurately, she is nothing if she isn't fertile.
This last line is the most important of Parker's article, because it speaks to the most important falsehood about Sarah Palin. That she was a forty something, still fertile female Governor, who found herself pregnant with a special needs child that she bravely decided to carry to term (Well almost).
Based on that mythology, Palin was able to attract support from Fundamentalists, pro-life groups, women, and horny old men who were amazed that she still looked so fuckable after recently giving birth.
And the whole thing was bullshit.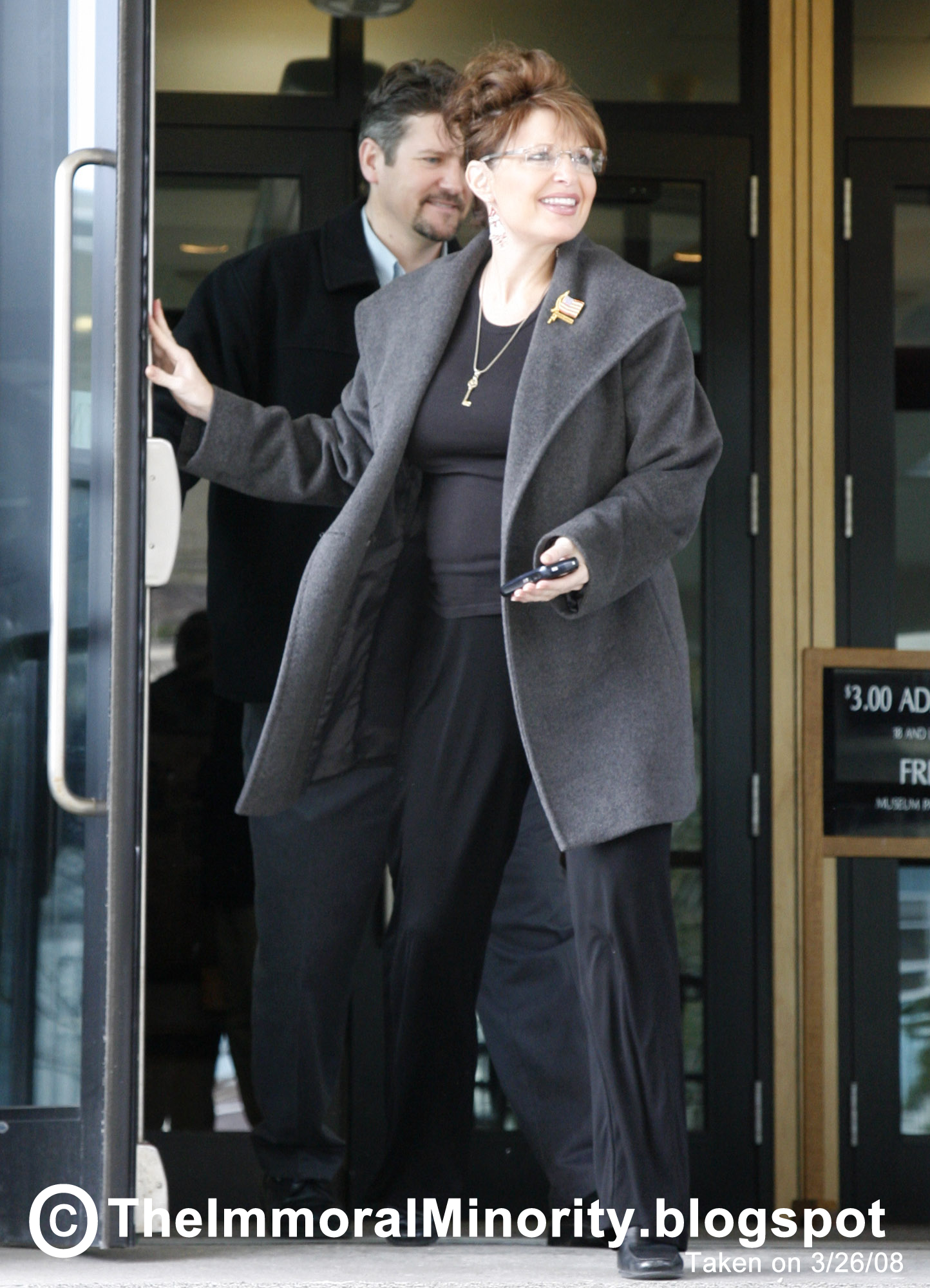 Sarah Palin on March 28, 2008, 3 weeks before the "birth" of her fifth child.
Which I believe I proved beyond a shadow of a doubt
back in 2011
.
In fact it was to prove that very fact that so many Palin blogs were launched in the first place, including my good friend Audrey's
Palin's Deceptions
, Regina's
Palingates
. and many many more.
In my opinion we did that. And with the help of
Joe McGinniss
we brought the story out from the shadows.
So to respond to Kathleen Parker's final point, no all evidence points to the fact that she is NOT fertile, and that same evidence indicates that, yes she IS nothing.
Now if only Kathleen Parker and her fellow journalists would, as Palin herself suggests, "get a still spine" we could finally prove that fact to the majority American people.
I think I, and others, have done the heavy lifting. So all that remains is for somebody with a larger audience to take our evidence and run with it.