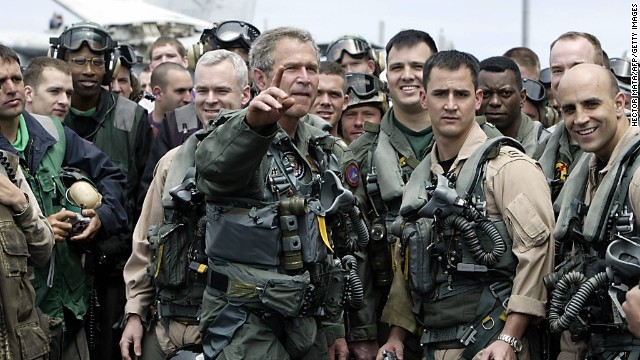 Courtesy of
Yes magazine
:
George W. Bush keeps a low profile these days, making the rounds on the public speaking circuit, engaging in a bit of philanthropy here and there, occasionally sharing his dog paintings or offering an unsolicited opinion on the immigration debate or national security.
Given his role in the current media landscape, it may be easy to forget that just 10 years ago he led an invasion of a foreign country that many in the international community saw as criminal.
Sundus Shaker Saleh, an Iraqi single mother of three, has not forgotten. The violence and chaos that engulfed Iraq following the U.S.-led invasion of 2003 had tragic consequences for her family and ultimately forced her to flee her homeland for an uncertain future. She has left Iraq, but she is determined to make sure the world hears her story and that someone is held accountable.
Saleh is the lead plaintiff in a class action lawsuit targeting six key members of the Bush Administration: George W. Bush, Richard Cheney, Donald Rumsfeld, Condoleezza Rice, Colin Powell, and Paul Wolfowitz. In Saleh v. Bush, she alleges that the Iraq War was not conducted in self-defense, did not have the appropriate authorization by the United Nations, and therefore constituted a "crime of aggression" under international law—a designation first set down in the Nuremberg Trials after World War II. The aim of the suit is simple: to achieve justice for Iraqis, and to show that no one, not even the president of the United States, is above the law.
I don't have muhc faith in this actually going anywhere, but an anti-war liberal can dream can't he?