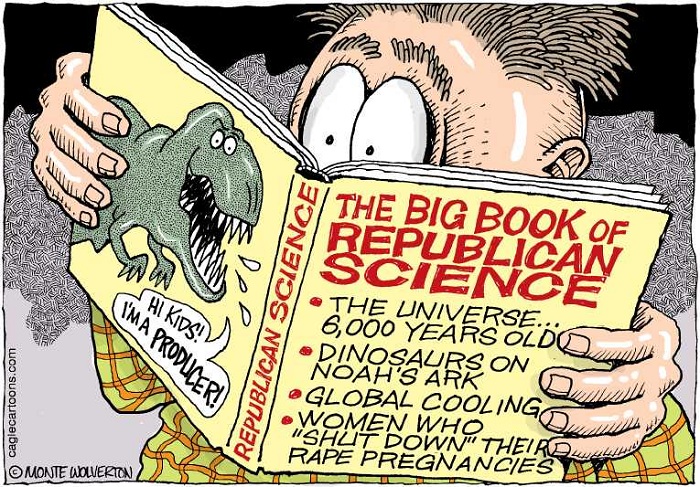 Courtesy of
TPM
:
Belief in evolution among Republicans has dropped more than 10 percentage points since 2009, according to a new poll by the Pew Research Center.
Pew found that 43 percent of Republicans said they believed humans and other living beings had evolved over time, down from 54 percent in 2009. More (48 percent) said they believed all living things have existed in their present form since the beginning of time.
You know I wish I could be more surprised by this, but I'm not.
If the GOP intellect continues to deteriorate at such a rapid rate, in no time they will be using stone tools and contacting each other using carrier pigeons instead of e-mail.
However what I did find surprising were these statistics: Democratic belief in evolution went from 64 percent in 2009 to 67 percent in 2013; independent belief dipped from 67 percent in 2009 to 65 percent in 2013.
There are really 33% of Democrats and 35% of Independents who do not recognize the difference between fact and superstition? That literally makes my head hurt.
We have GOT to make sure that Evolution is taught in our public schools, along with critical thinking, and Understanding Advertising 101.
If our young people were well versed in those disciplines they would be inoculated against all kinds of political mumbo jumbo.