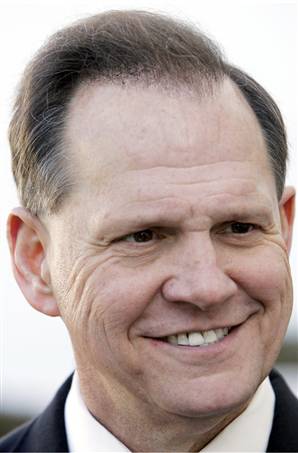 Justice Roy Moore
Courtesy of
Raw Story
:
Speaking at the Pastor for Life Luncheon, which was sponsored by Pro-Life Mississippi, Chief Justice Roy Moore of the Alabama Supreme Court declared that the First Amendment only applies to Christians because "Buddha didn't create us, Mohammed didn't create us, it was the God of the Holy Scriptures" who created us.
"They didn't bring the Koran over on the pilgrim ship," he continued. "Let's get real, let's go back and learn our history. Let's stop playing games."
Moore also shared his views on abortion and the keys to happiness. (Here's a hint, it's all about God.)
"Now," he continued, "if technology's supposed to increase our knowledge, how did we become so stupid?" Discussing Thomas Jefferson's use of "life" in the Declaration of Independence, he said that "when [Jefferson] put 'life' in there, it was in the womb — we know it begins at conception. Why aren't we going the right way instead of the wrong way?"
He later said that "you can't be happy unless you follow God's law, and if you follow God's law, you can't help but be happy."
Well I am no theologian but I have certainly met my fair share of disgruntled and unhappy Christians in my time.
This guy is supposed to defend the Constitution of the United States of America, NOT the Bible.
And there is NO way that Jefferson was talking about the life of a fetus, especially at a time when infant mortality rates were over 50%. It would be incredibly ignorant at the time to count life as beginning at conception, when the likelihood of seeing a life birth was so incredibly low.
This guy demonstrates a crippling lack of intelligence, and is clearly far more concerned with supporting Biblical principles, and protecting Christians, than he is in justice, or protecting the Constitution.