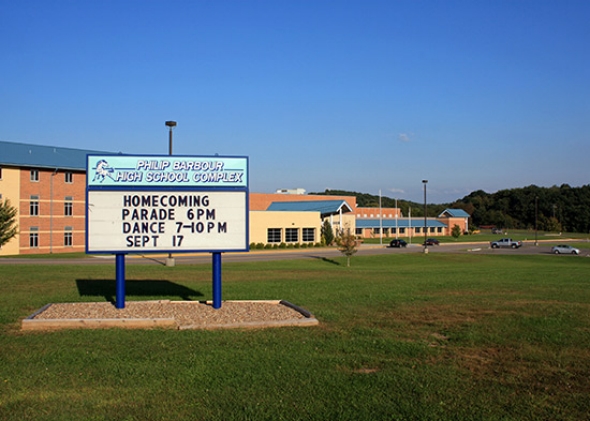 Courtesy of
International Business Times
:
Police in West Virginia took a 14-year-old boy in custody Tuesday for holding hostage a class of 29 students and a teacher at gunpoint in a high school. The boy surrendered following negotiations with police.
The incident occurred at Philip Barbour High School in the state's north-central Barbour County around 1 p.m. and no injuries were reported. The boy, armed with a pistol, took hostage a classroom at the school's second floor, the state police said, in a Facebook statement.
Barbour County Schools Superintendent Jeffrey Woofter told the Associated Press (AP) that students entering for the next class were asked to leave when they opened the door of the classroom where the teen was holding the hostages. These students alerted another teacher, who then informed school officials about the situation. An assistant principal then asked for the police to be alerted, Woofter said.
The school was placed on lock-down and police began negotiating with the teen:
"After initial negotiations, the suspect agreed to release all of the hostages. After further negotiations, the suspect put the gun down and surrendered to law enforcement without further incident," the police said in the statement.
Apparently the boy's pastor
played a part
in getting him to put down the gun:
Ultimately, the boy's pastor convinced the boy to drop the gun and walk away. The pastor said his daughter is a senior at the school, and she had recently stepped in when she saw the boy being bullied.
"He's a child who's been bullied to the point where he just snapped," said Pastor Howard Swick with Haven of Hope Ministry in Philippi. "And I'm watching this 14-year-old child with a gun, crying. He looked completely hopeless and didn't know what to do, and realized he had taken this farther than he had ever wanted to go. He didn't know how to retreat."
So essentially here was a potentially dangerous situation involving a handgun.
No poorly armed individuals in the school confronted him.
The police were called.
And ultimately there was no loss of life.
Gee imagine how differently that might have played out if this were one of those schools that allowed armed teachers to roam the halls.