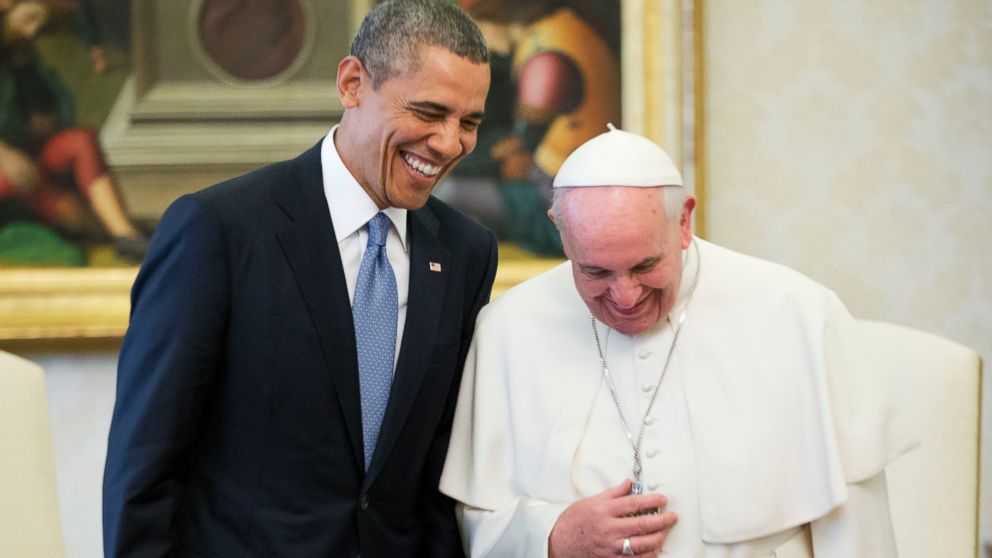 Pope Francis consorting with the Anti-Christ.
Courtesy of the
Guardian
:
Pope Francis will deliver most of his speeches in his native Spanish when he arrives in the US next week for his three-city tour, with just four speeches expected in English.
Federico Lombardi, the Vatican's chief spokesman, said on Tuesday that the Argentinian pontiff will deliver 14 speeches in Spanish – including a high-profile speech before the United Nations. Lombardi said that the pope finds it easier to communicate in Spanish.
Indeed, if the past offers any clues to his upcoming tour of Cuba and the US, the pope has tended to make some of his most newsworthy comments in Spanish, especially when he departs from prepared remarks and speaks off the cuff.
The papal visit comes amid a caustic debate in the US about immigration and the widespread use of Spanish.
So not only is the Pope speaking out
against conservative economic policies
, speaking in favor of accepting non-religious people as equals, and calling for the acceptance of evolution, but now he dares to come to America and speak in the same language as the people illegally crossing the borders?
Boy THAT is going to make whatever that is on Donald Trump's head stand straight up.
After all as we know American is the greatest, most bestest language there is. And if this fraud, who has probably NEVER even been inside of a real honest to goodness fire and brimstone revival meeting, cannot be bothered to talk good American, then perhaps we Americans are better served getting our religious direction from tried and true sources like Pat Robertson, Franklin Graham, and Joel "Show me the money" Osteen.
Hmm I wonder how many GOP candidates are willing to get up close and personal with the Pope now?