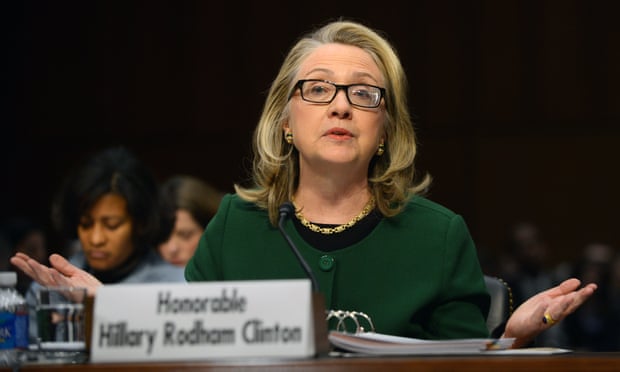 Courtesy of
ABC News
:
Democratic Presidential frontrunner and former Secretary of State Hillary Clinton is set to spar this morning with Republican members of the House Select Committee investigating the 2012 Benghazi attack that killed U.S. Ambassador Chris Stevens and three other Americans.
Washington observers and political junkies have been fixated on this testimony -- beginning at 10 a.m. -- for months, waiting in anticipation to see what impact it may have on her campaign.
The pressure is on Committee Chairman Rep. Trey Gowdy to produce results or information that differs from Clinton's full day of Congressional testimony on the attack nearly 3 years ago.
The lead-up to today's testimony has seen vicious political sniping from Democrats on the committee, who have seized on remarks in recent days from two Republican congressman and one former committee staffer, each of whom suggested publicly that the committee has disproportionately focused its attention on attacking Clinton.
The Hillary folks have said that this testimony is even more important than the last Democratic debate, and I would tend to agree with that.
If Hillary does well here this could effectively be the end of the Republican's ability to use Benghazi to damage her in the 2016 election, and it would essentially mean smooth sailing ahead for her nomination.
I am going to be working from home all day today so I will leave this as an open thread.
Here is my
Twitter feed
for those who are interested and here on IM I will be periodically updating as events unfold.
There is talk that this might last as long as six to eight hours, which means there will likely be a lot to talk today.
Update:
— Hillary Clinton (@HillaryClinton) October 22, 2015
Hillary started off strong.
Update: "
Psst. The Benghazi committee's only interested in taking down Hillary Clinton
."
Update: Thank god this thing is not political.
SIGN and stand with Trey Gowdy as he uncovers the truth about Hillary Clinton's actions as Secretary of State. ---> https://t.co/MiI4cSYD1f

— Marco Rubio (@marcorubio) October 22, 2015
"Look at us making fools of ourselves while attempting to smear Hillary Clinton. And then give us money!"