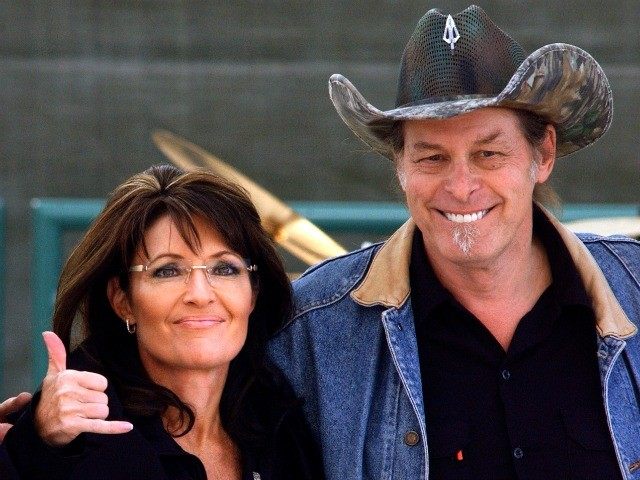 Verizon removes Sportsman Chanel, once home to Sarah Palin, and the Outdoor channel, which hosts Ted Nugent.
Warning this links to
Breitbart
:
Verizon FIOS scrapped Sportsman Channel, home to Amazing America with Sarah Palin, and Outdoor Channel, which runs Ted Nugent's show. Kroenke Sports & Entertainment, LLC ("KSE") owns both networks.
While Verizon cries low viewership, Nugent isn't buying it. While appearing on Mama Grizzly Radio, Nugent pulled no punches. "Political correctness is choking the life out of the freedom in this country," said the legendary rocker. "You've got a bunch of punks on the other side of the world that think that somehow in between barbecues the animals have rights—which is so absurd that Alfred E. Newman wouldn't include it in the next issue of Mad aagazine because he'd be too busy flying over the cuckoo's nest."
Nugent went on to speak about Verizon and why they're really taking away these channels rich in American tradition. "Anybody that's against hunting, fishing and trapping, the Second Amendment, and self defense—you really have to be from some planet other than Earth," said Nugent.
The Motor City Madman points to the "soullessness of those on the Left that are against truth, nature, God's creation, and the perfection of tooth, fang, and claw that produces back straps to feed America and the world. It really is Planet of the Apes stuff when you're against this kind of perfection."
Well first off the fact that Nugent went on Mama Grizzly Radio to vent his frustration is hysterical all on its own, but the fact that he believes one cannot be a good American without murdering every animal that comes within a hundred yards of them is laugh out loud funny as well.
Of course the reason that Verizon dropped the two channels, which are both part of the Outdoor Sportsman Group Networks, was
due to low ratings
.
However Ted "Poopy pants" Nugent isn't having it.
"It's a lie," Nugent said. "It's a political correct escape mechanism. Verizon is infested with anti-hunters, animal rights freaks, anti-gunners, people that don't believe in self defense."
Wow, I see that Nugent continues to barely cling to his sanity.
As it turns out the NRA agrees with Nugent (Well of course they do.) and
they have issued a call to action.
Which since these are NRA members we are talking about I assume means they will be shooting their TVs.