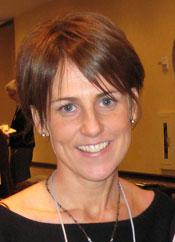 Ann Marie Corgill
Courtesy of the
Independent
:
A veteran Teacher of the Year in Alabama has resigned after 21 years in the classroom after local authorities told her she is unqualified to educate fifth graders.
Ann Marie Corgill was told by the Alabama Department of Education that her qualifications were not up to scratch, despite being 2015 National Teacher of the Year and 2014-2015 Alabama Teacher of the Year finalist. She is also the author of teaching book called "Of Primary Importance".
Ms Corgill said she was tired of having to prove herself and did not want to pay more fees, and sent Birmingham City Schools a letter of resignation. In the letter, first obtained by Al.com, she wrote:
"After 21 years of teaching in grades 1-6, I have no answers as to why this is a problem now, so instead of paying more fees, taking more tests and proving once again that I am qualified to teach, I am resigning."
You know what, I don't even know enough curse words to express my anger over this.
What in the hell are we doing?
How can we have broken public education so completely that even gifted, experienced teachers can no longer function adequately in our classrooms?
This, THIS, is what the conservatives have been working towards all along.
They want to drive good teachers away, undermine public education until it is crippled, and then declare that the Department of Education has failed, and do away with it completely.
Despite the bullshit rhetoric about "fixing" education, this was the driving force behind No Child Left Behind. And the damage it caused, and the damage still being caused by those trying to modify it, is cheating our kids out of their rights as citizens to a free, and comprehensive, education.
Teaching is not a cookie cutter profession. These are not factory workers going through the same mundane tasks over an over for a paycheck.
They are intelligent, imaginative individuals, with skills and dedication who do best when they are allowed to experiment and think outside of the box.
That is how they keep the children engaged, and how they keep things fresh and non-repetitive for themselves.
The best teachers I have seen are the ones that rarely provide instruction the same way twice. They think of new and exciting ways to keep the material interesting and sometimes even entertaining.
Yet that diversity is exactly what is being punished in American classrooms today.
And you know what? That is fucked up.