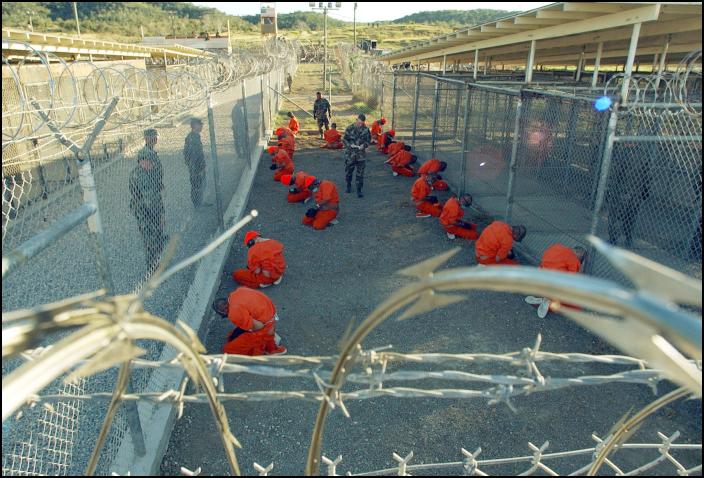 Courtesy of
Reuters
:
To slow prisoner transfers, Pentagon officials have refused to provide photographs, complete medical records and other basic documentation to foreign governments willing to take detainees, administration officials said. They have made it increasingly difficult for foreign delegations to visit Guantanamo, limited the time foreign officials can interview detainees and barred delegations from spending the night at Guantanamo.
Partly as a result of the Pentagon's maneuvers, it is increasingly doubtful that Obama will fulfill a pledge he made in the 2008 presidential election: to close the detention center at the U.S. Naval Base at Guantanamo Bay, Cuba. Obama criticized President George W. Bush for having set up the prison for foreigners seized in the "War on Terror" after the Sept. 11, 2001, attacks on the U.S., and then keeping them there for years without trial.
When Obama took office, the prison held 242 detainees, down from a peak of about 680 in 2003. Today, with little more than a year remaining in his presidency, it still holds 107 detainees.
Pentagon officials denied any intentional effort to slow transfers.
The article goes on to say that this Pentagon obstructionism was part of the reason that the President removed Secretary of Defense Chuck Hagel and that since then he has lit a fire under the defense department to get this process moving at a faster pace.
Even if the Pentagon cooperates however the Republicans are set to block Obama from moving the most dangerous detainees to Federal prisons, though it sounds as if the President is perfectly willing to use executive orders to bypass them if necessary.
It is hard to blame the President for losing his patience with this since he has been working on it virtually his entire time in the White House.
One thing that can be said about President Obama, when he makes a promise he does everything in his power to keep it.