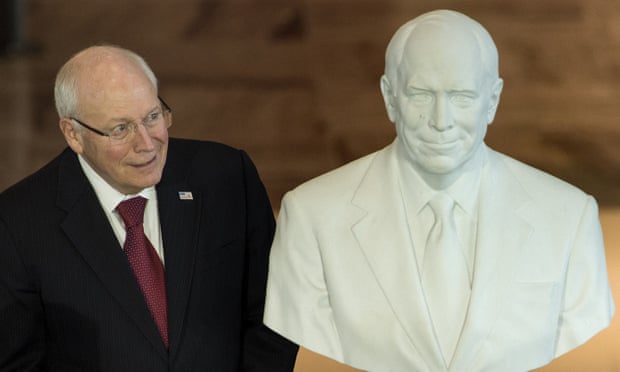 I don;t know, still kinda looks like Satan to me.
Courtesy of
ABC News
:
A marble bust of former Vice President Dick Cheney was officially unveiled today in the U.S. Capitol. During a mid-day ceremony, Cheney was introduced by his former boss, President George W. Bush.
"I must confess I'm somewhat reluctant to come back to Washington. The last time I showed up here I was hanged in the White House," Bush said in reference to his official portrait. "This time I've returned only to find my vice president getting busted in the Capitol."
President Bush said that when he told his father, President George H.W. Bush, he would be attending today's ceremony, "Dad perked up and he said, 'Send my best regards to old iron-a**.'"
Well all I can say is that when tourists visit the Capital, and find themselves with a mouthful of saliva, now they know where to deposit it.
Not that I am advocating any type of vandalism, after all I'm pretty sure that is some kind of federal offense and I'm too pretty for prison, but you know some kind of gesture just to express your emotions at seeing this bust seems appropriate.
To be serious for a moment, Dick Cheney is a war criminal and traitor to this country. The only place he should be immortalized is on a list of the worst politicians in the history of the United States.