From top left, booking photographs of Ammon Bundy, Ryan Bundy, Brian Cavalier and Shawna Cox. From bottom left, Ryan Waylen Payne, Joseph Donald O'Shaughnessy and Peter Santilli.
Courtesy of the
New York Times
:
Ammon Bundy, the leader of an armed seizing of a federal wildlife refuge in rural eastern Oregon, was arrested and one person was killed Tuesday afternoon in a traffic stop in rural Oregon, the F.B.I. and the Oregon State Police said.
Seven other people, including Mr. Bundy's brother Ryan Bundy, were arrested, the authorities said. Another person was hospitalized with injuries that were not life-threatening.
The authorities did not identify the man who was killed, but a member of the Nevada State Assembly, Michele Fiore, who has been a supporter of the Bundy family, said on Twitter that it was LaVoy Finicum. Mr. Finicum had become a de facto spokesman for the occupiers.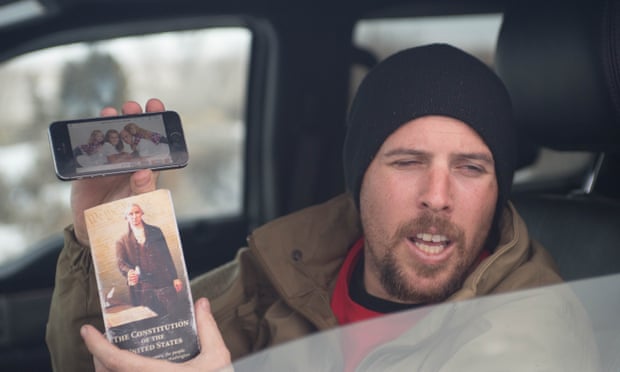 The seventh man arrested was that loudmouth Jon Ritzheimer, who claimed in a
YouTube video
that he could not be with his children because he was too busy standing up for the Constitution.
In fact he got scared and
ran home to Arizona
:
"FYI. I came home to AZ to visit my family," Ritzheimer posted late Tuesday. "The feds know I am here and are charging me with Conspiracy to impede a federal officer. I need an attorney. My family needs help and I am hoping they grant me bail."
The FBI issued a statement early Wednesday saying the 32-year-old Ritzheimer had turned himself in and was arrested without incident.
"Ritzheimer faces one federal felony charge of conspiracy to impede officers of the United States from discharging their official duties through the use of force, intimidation, or threats, in violation of Title 18, United States Code, Section 372," the FBI said in a statement.
You know as a rule I really don't want ANYBODY shot and killed. But I have to admit that if this Ritsheimer guy had gone out in a blaze of "glory" I would not have shed a tear at his demise.
But as it turned out he was just a sniveling coward with a big mouth.
Which should not be news to anyone.
So exactly what was accomplished here?
No seriously I'm asking, WHAT was accomplished here?
Update: Here is Ritzheimer
using his children
in order to evoke sympathy and convince people to send him money.
If you are like me it will likely make your blood boil.