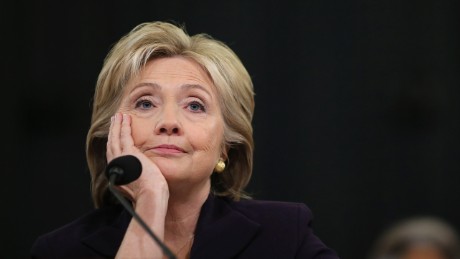 So some of you may have heard
this recent news
about Hillary's e-mails:
The State Department announced Friday that it will not release 22 emails from former Secretary of State Hillary Clinton because they contain "top secret" information, the highest level of government classification.
Now that is the kind of news that is guaranteed to cause the Right Wing to start jizzing in their pants.
But hold on.
State Department spokesman John Kirby said the documents, totaling 37 pages, were not marked classified at the time they were sent, but are being upgraded at the request of the Intelligence Community because they contain sensitive information.
This means that Hillary's assertion that she did not have classified e-mails on her server is technically still true.
And just today
Hillary seemed to double down
on that point:
Hillary Clinton told NBC she did not generate any of the 22 newly upgraded "top secret" emails recently withheld by the State Department and is not concerned about the contents of the messages.
"No, I did not," she told NBC News' Monica Alba when asked whether she personally wrote any of the emails. She waived them off as old news, according to excerpts of the conversation distributed by NBC News. "I'm really not concerned because it's the same story that has been going on for months now, and I just don't think most people are as concerned about that as they are about what we're going to do to get economy going and how we're going to protect the Affordable Care Act and everything I talk about in this campaign because that's what Iowans, Americans talk to me about."
Of course much is still being made of the fact that the FBI is investigating this case, but it appears that White House Spokesman Josh Earnest just stuck a pin in that as well.
I think now is a good time to remind everybody that there is NO evidence that Hillary's e-mail server was in any way compromised.
However the same cannot be said about the State Department's e-mail server which was indeed attacked in what has been called the "
worst hack ever
."
So from the evidence presented so far it would seem that any sensitive material that might have been exchanged between then Secretary of State Clinton and the State Department, was far safer while in Hillary's possession than it was on the government e-mail servers.
Just saying.