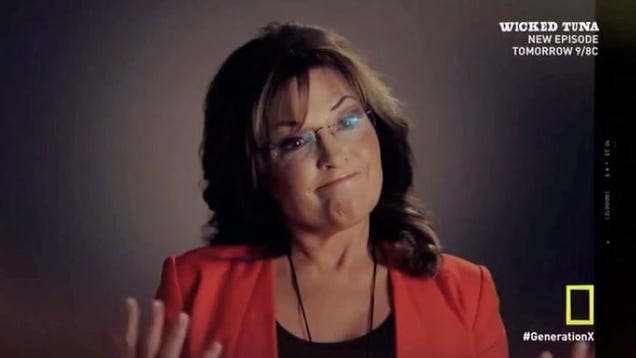 Courtesy of
Gawker
:
Last night, the National Geographic Channel kicked off its six-episode series Generation X, an uncommonly sharp talking-head recap show that explores various cultural events and phenomena that helped shape the generation after the Baby Boomers. The War on Drugs, specifically how it targeted crack in the '80s and was made tangible in the "Just Say No" campaign, was among the topics on last night's premiere. The segment featured commentary from Senator Cory Booker, journalist Alison Stewart, and none other than Sarah Palin, who pointed out the impracticality of the campaign spearheaded by Nancy Reagan:
My, how easy it would be to sit your child down and say, "Just say no." It's not that easy. Great intentions, though!
Now a couple of things here.
First off Palin just disagreed with a policy of the Reagan Administration, and in GOP circles that is tantamount to egging the Vatican.
Actually I take that back, it's worse.
Secondly isn't sitting her children down and teaching them to just say "no" EXACTLY how Palin taught her kids about sex education?
And by the way that "Just Say No" program worked out about as well as Nancy Reagan's "Just Say No" program.
So at this point we have to start asking ourselves, "Is Sarah Palin really a Republican anymore?"
After all she is backing the guy who is not only attacking the RNC, but also attacking George W. Bush, and threatening to run as a third party candidate.
And now she has the temerity to actually second guess the legacy of the great god of the GOP, Ronald Reagan.
Yep, things are about to get even uglier.
Popcorn anyone?