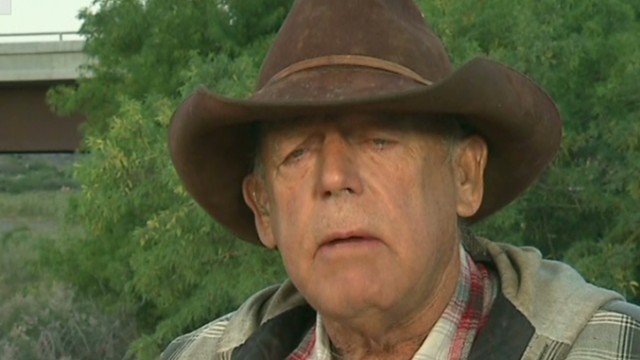 Courtesy of
Oregon Live
:
Jailed Nevada rancher Cliven Bundy refused Thursday to acknowledge federal authority and declined to enter a plea to federal charges that he led an armed standoff against a round-up of cattle two years ago.
After several minutes of confusion about whether Bundy had a lawyer, U.S. Magistrate Judge Carl Hoffman entered a not guilty plea on Bundy's behalf and scheduled a detention hearing March 17.
Arguments then will focus on whether the 69-year-old Bundy should remain in custody pending trial on 16 charges, including conspiracy, assault and threatening a federal officer, obstruction and firearms offenses.
It could be many months before trial. Federal prosecutor Steven Myhre told the judge the case involving 19 defendants would be slow-tracked as "complex."
You gotta love these sovereign citizen types who seem to believe that since they don't believe that federal laws have any validity they can simply pretend that they don't have to obey them.
I wonder how somebody sitting in a jail cell is still able to convince themselves that the Feds have no control over their lives?
Later on the sidewalk outside of the courtroom Bundy's interim attorney had this to say:
"Mr. Bundy feels like he needs to stand up for the rights of all Americans in all states, and for the states to be the owner of public land and not the federal government," Hansen said outside court. "In the West, the government owns most of the land. He thinks that's wrong."
Okay first off Bundy is certainly not standing up for THIS American.
And secondly what a stupid cause to throw your life away over.
This is not a civil rights issue, or even a stand against government intervention. This is a guy pissed off that his cows cannot eat grass and shit on government property.