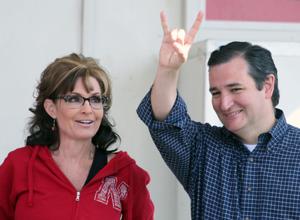 So yesterday Palin fired up one of her ghostwriters, who I will assume is NOT Nancy French, and posted a meandering backstabbing of her one time pal Ted Cruz on her
Facebook page
.
Here are some of the lowlights:
Calling GOP frontrunner supporters "low information" disengaged voters, Ted Cruz's insinuation reeks of all the reasons America knows "the status quo has got to go." The arrogance of career politicians is something at which the rest of us chuckle, but Cruz's latest dig strays from humorous into downright nasty. Cruz is right, though - independent, America-first, commonsense conservatives supporting Donald Trump ARE "low information" when it comes to having any information on Cruz's ability to expand the conservative movement, beat Hillary Clinton, unify and lead the nation.
Oooh, like we used to say in the 70's "What a burn!"
Actually to be honest if there were no "low information" voters in this country the GOP would cease to exist.
But Palin was not finished yet.
Where's information on any Cruz success whilst in his short, half-term U.S. Senate seat, proving his resume's advantage over another career politicians's lawyerly
("Politicians's?")
executive inexperience that includes never having created a single private sector job, but boasting of his constitutional law teacher creds? (Remember America experimented with that resume before; how'd that work out for the country?)
Wow comparing Rafael to President Obama. In conservative circles that is liking calling somebody a commie or socialist.
Palin even goes after Cruz surrogate and old friend Glenn Beck.
Any info on why he won't denounce his highest-profile campaign buddy, despite Glenn Beck's proclamation that he "hates" America's innocent victims of 9/11 and calls the families crybabies?
Palin goes on for quite some time, often resorting to using facts (Gasp!) to twist the knife even harder, and in the end she sums it up thusly:
How does it help unify the party or the nation when that holier-than-thou narcissism manifests itself through negative, biting, deceptive tactics... when he's had so many opportunities to disavow his campaign's shenanigans and apologize for his own?
You would be forgiven for thinking she was was referring to the Trump campaign, but nope she is talking about Cruz and his campaign.
I legitimately do not think there is enough popcorn in the world to satisfy our cravings as this infighting among the Republicans plays itself out.
My favorite part however has to be the response from Palin's Facebook supporters to her attacks on Cruz:
Eric Kessin If Palin is for it, I'm against it. If Palin is against it, I am for it. John McCain, what were you thinking?
John Newbanks Gov Palin. I liked you in 2008 and you were the better half of your ticket, but every since then I have found your thoughts and statements to be half researched at best.
Stephanie Alan this is blatantly false and you know it! We stood by you while your family was being falsely attacked and maligned. Now you are the one lying and attacking? Very disappointing.
Phillip Gladney Welp, I guess I'm "unliking" Sarah now. Don't need this pablum in my feed...
Is it possible to slip into a popcorn induced coma?
Update: Glenn Beck
responds
:
Sarah Palin,
Who is writing your Facebook page because I know it isn't you.
You are better than this. After all your family has been through after all of the lies and smears you have weathered to now use known lies and distortions to hurt others is just not you.
It is really sad for those of us who have watched, defended and rooted for you for many years.
Yes, we don't agree and we had a falling out, but to knowingly lie is the saddest tale yet in your story.
I remember the woman who sat on my set when I told her she gave me hope that we could win, that decent people still had power.
We are not perfect people. Neither of us. It is what makes us human. But what makes us divine is when we try to be better everyday.
Please tell us it isn't you writing these horrible media matters lies and smears.
You know I have often said that I don't believe in heaven, but I might have to take that back.
What is happening right now to the conservatives certainly feels heavenly to me.