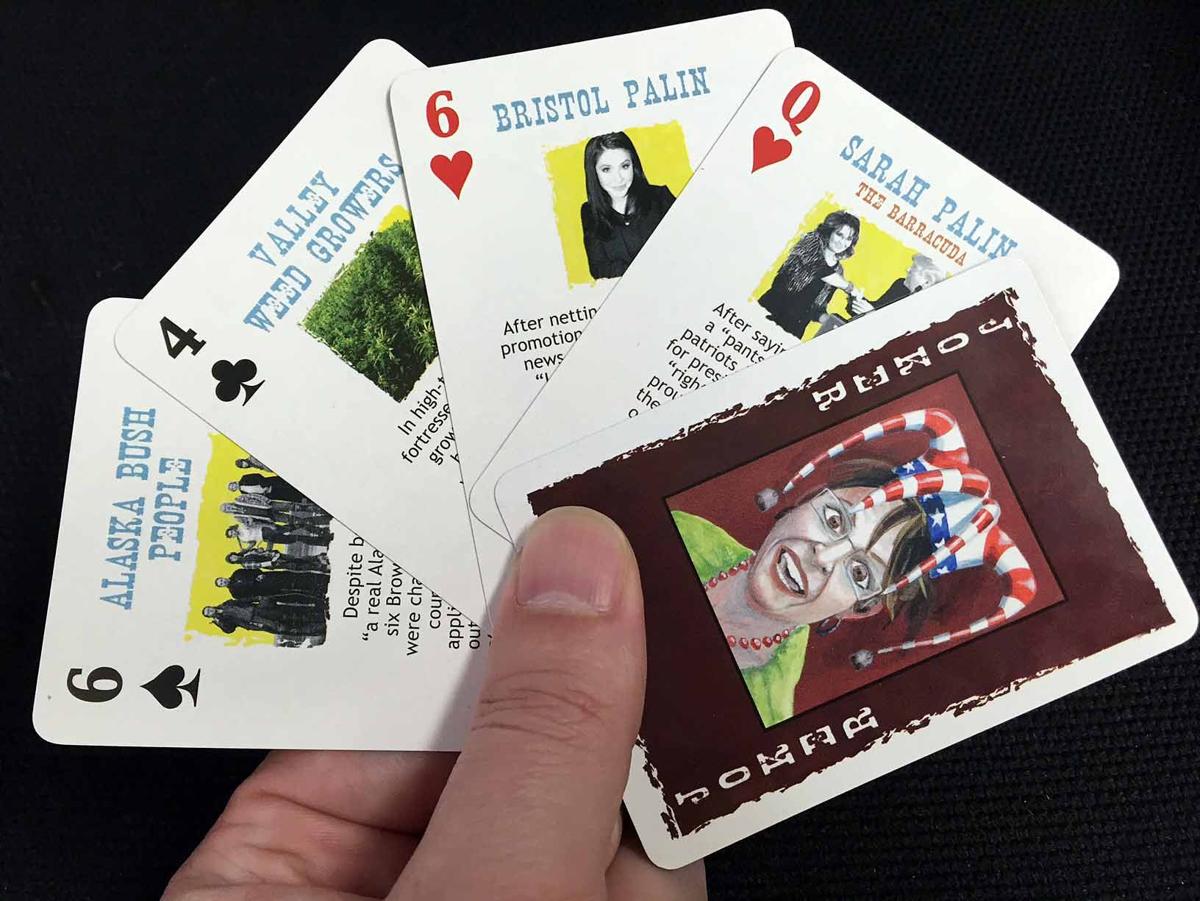 Courtesy of the
Mat-Su Valley Frontiersman
:
Wasilla's most famous family and the Valley's most notorious cash crop are prominently featured in the newest update to the state's most irreverent deck of playing cards.
The 4th Edition of the "Alaska Outlaws, Rebels or Cons" playing cards have been released, with updates to many familiar faces and a few new members of the infamous pack of Alaska characters.
"There's a bunch of new ones," said creator Jason Hahn, the Anchorage man who first came up for the idea of the novelty playing cards in 2008.
Over the years, other members of the Palin clan have been featured, including Sarah's husband, Todd, and Levi Johnston, whose high-profile engagement to Palin's daughter, Bristol, was a key issue in the presidential campaign due to Bristol's teen pregnancy. Todd and Levi aren't in the fourth edition, but Sarah and Bristol again made the cut. Mrs. Palin is back as the queen of hearts, and also gets special recognition as one of two "jokers" in the deck. Her daughter, meanwhile, is featured on the six of hearts.
Although the Palins provide Hahn with plenty of content, the card-maker said he's nearly at the point where he's Palined-out.
"I get almost as tired as anyone else does," of the family, he said.
The cards include brief descriptions of what led to each figure's notoriety. Sarah Palin's card features a picture of her shaking hands with Donald Trump and quotes from the former Alaska governor, including her "right-winging, bitter-clinging, proud clingers of our guns" line that garnered national attention during her Trump endorsement speech.
As for Bristol Palin, Hahn's depiction of the Wasilla blogger and reality television star includes an account of her second pregnancy and a much-publicized fight at an Anchorage party in 2014, in which Palin allegedly asked the host "who the f--- are you?" before punching the man in the face.
Though Hahn claims to be all Palined-out at this point (Who isn't?) how can you possibly have a set of cards depicting outlaws, rebels, and cons and NOT include the craziest Alaskan family of all?
Personally I am a little confused as to why Track Palin did not make the cut.
After all what more do you need than to get your ass kicked at an Anchorage birthday party, beat up your girlfriend, and then threaten to blow your own brains out?
Oh well, maybe next time.