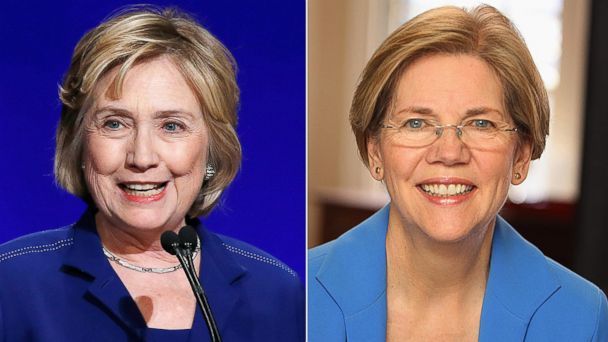 Courtesy of
HuffPo
:
If Hillary Clinton scores the Democratic nomination for president, she'd be shattering a major glass ceiling. But her campaign indicated that she could make history again by choosing a woman as her running mate.
"We'll start with a broad list [of potential vice presidential candidates] and then begin to narrow it," Clinton 2016 chairman John Podesta told The Boston Globe. "But there is no question that there will be women on that list."
Clinton had previously indicated that they wouldn't rule out a female veep, but this is the campaign's strongest stance on the matter so far.
Yes, yes, yes!
Now indulge me while I once again lay out my favorite scenario for the Democrats to hold onto office beyond 2020.
First she chooses Elizabeth Warren as her running mate reengaging the Sanders's supporters who really wanted Elizabeth Warren all along.
Second she improves the policies of President Obama, including beefing up the Affordable Care act and improving the economy.
Thirdly she declares late in 2019 that she will not seek reelection in 2020, and instead will back a presidential run by her VP, Elizabeth Warren.
And fourth Warren wins, and then after that we are in untested waters and all bets are off.
Now I know that many of you see multiple flaws with this idea, and I admit that it seems like a stretch to suggest that it is even plausible at this point.
However keep a few things in mind.
Hillary Clinton is literally despised by half of the country, and every single misstep or perceived misstep she makes as President will only increase that number making her reelection in 2020 very, very unlikely.
Also take into account that a party getting more than three terms in office back to back has not happened for over sixty years.
The ONLY way that Hillary could possibly win a second term is if the GOP nominates a candidate along the lines of a Ted Cruz or Louis Gohmert. And even then it would be closer than I think we want to imagine.
However Elizabeth Warren completely changes the dynamic in a way that I think makes her almost a sure bet. After all she is a fresh face, with an energized base, and the kind of intellectual Ninjutsu that makes her a more than formidable opponent against whoever the Republicans can cajole, bribe, or threaten into facing off against her.
Anyhow that is my dream, and dammit I am going to cling to it until there is absolutely no hope of it every coming true.
And actually maybe even then.