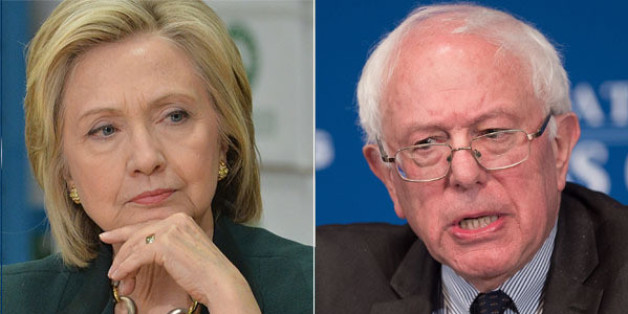 Courtesy of
NBC News
:
Sen. Bernie Sanders and former Secretary of State Hillary Clinton have finally come to terms on where and when they will have one more debate before New York's Democratic primary.
It's going down in Brooklyn.
The DNC-sanctioned debate will be aired on CNN and NY1, a regional cable news outlet, from 9 p.m. to 11 p.m. ET on April 14 — five days before the New York primary.
There we go. After several weeks of grousing by the Sanders camp we finally have a date, so everybody should be happy.
Right?
Wrong.
Courtesy of
Yahoo News
:
Afterward, Sanders' campaign spokesman, Michael Briggs, released an aggressively worded statement criticizing Clinton for making the Sanders campaign change a date for a rally that it was planning to hold on the same day.
Briggs wrote:
"Fortunately, we were able to move a major New York City rally scheduled for April 14 to the night before. We hope the debate will be worth the inconvenience for thousands of New Yorkers who were planning to attend our rally on Thursday but will have to change their schedules to accommodate Secretary Clinton's jam-packed, high-dollar, coast-to-coast schedule of fundraisers all over the country."
I'm sorry but since the large majority of Sanders supporters are young people still in college, exactly what plans do they have to change?
Speaking of Sanders' supporters get a load of what Barney Frank
had to say about them recently
:
Supporters of Democratic presidential candidate Bernie Sanders are unrealistic about what the independent Vermont senator can achieve if elected president, former Rep. Barney Frank (D-Mass.) argued Monday.
"I think it is a lack of information, to be honest," he said on "MSNBC Live with Jose Diaz-Balart" when asked why Sanders is resonating with voters.
"You have people, I believe, who do not understand how hard it is to make change. [It is] the importance of not just being idealistic, but being sensibly pragmatic and keeping their ideals. Sanders is getting their support."
Frank said some of the voters who are frustrated with the Democratic establishment have unrealistic expectations about what a president can deliver.
"You have people who don't understand, frankly, the nature of the American political system," he said. "It's the separation of powers.
This is the exact same argument I have with my daughter, who seems to think that Bernie Sanders is a Jewish version of Gandalf the Gray, with the power to wave his staff and simply change everything that he wants to change with some unspecified kind of magic. (My daughter hates when I make this comparison by the way.)
She talks about free college, reforming Wall Street, and universal health care as policies that Bernie can put into place through sheer force of will, and with the support of everyday people with no ability to influence votes in the House or the Senate.
The reality is that winning this next election might be possible for either Hillary Clinton or Bernie Sanders, but Hillary wants to continue pushing forward policies put into place by President Obama, which is possible and perfectly reasonable, while Sanders wants to upend the table and start from scratch, and that is simply a non-starter.
Not only will Sanders face unrelenting opposition from the Right, but even Democrats in Congress will be wary of associating with him for fear of making themselves vulnerable in their bids for reelection.
Let's face it a Democrat in a purple state cannot afford to have a challenger with the ability to create ads showing them "palling around with
a Socialist
."
That label might not bother young folks today, and that is great news for our future, but it is the kiss of death in most Southern states and rural communities in this country.
Update: Okay I finally got around to reading this
New York Daily News interview
with Bernie Sanders. I would suggest that any Sanders supporters do the same.
Pay close attention to his responses concerning Wall Street and "too big to fail" banks.
He literally has
no idea
what he is talking about.