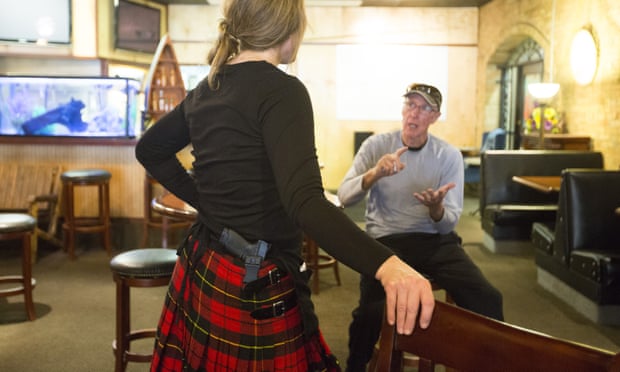 Courtesy of the
Guardian
:
The first things you notice are the smell of freshly fried cod and the fact that the men serving it up are wearing kilts.
It's only afterward that you notice the waiters are carrying not just trays of food – but pistols, too.
You're tempted to ask: "Is that a gun in your sporran or are you just pleased to see me?" Actually, these guys wear their firearms neatly tucked into their waistbands, or in side holsters amid the tartan folds.
Tony Siebers was carrying his loaded 9mm Sky semiautomatic – made in America, he pointed out – in the top of his Black Watch tartan kilt, as he buzzed around the restaurant he owns in Ogden, Utah, getting ready for the Good Friday dinner rush.
"It doesn't come out unless there is an emergency," he said, patting the black handle of the pistol.
The "emergency" the owner is talking about is a robbery, which if one were to occur in the restaurant he can now insure will be met with a hail of bullets though the majority of robberies do not involve actual gun play.
And while perhaps the probability of a robbery has been reduced by some small percent, the possibility of an accidental shooting within the restaurant seems to have gone up quite dramatically.
Not that I have any plans to visit Utah anytime in the near future, but if I did you can bet this is one eatery that I would take great pains to avoid.