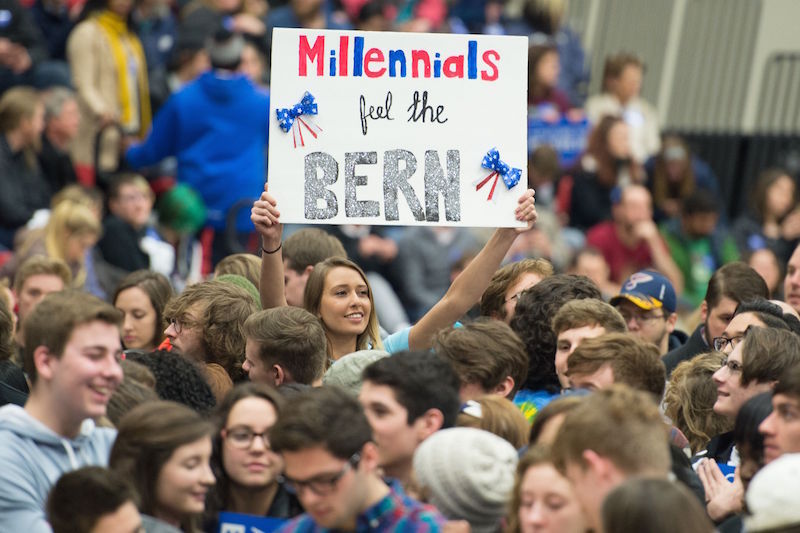 Courtesy of
Salon
:
The Bernie Sanders campaign has injected a lot of welcome aspects of lefty thought into the national discourse this election cycle: An emphasis on income inequality, a discussion on how to rebuild the declining middle class, a reminder that almost none of the bankers who destroyed our economy paid for their crimes.
Unfortunately, Sanders is also injecting one of the most wrong-headed and frankly embarrassing aspects of lefty thought into our discourse: The tendency to dismiss people who disagree with you as dupes who have been misled by a shadowy cabal of evil masterminds who brainwash the masses in order to perpetuate economic injustice.
This is the premise of Sanders' "political revolution" argument: That the only reason voters hadn't backed a socialist in the past is they never really had a chance to. But once they heard the good news about democratic socialism, they will throw off their shackles, embrace the truth, and usher in our socialist paradise.
That sort of rhetoric is harmless enough when it's a pitch to win over voters. But now Sanders is losing the nomination. Rather than accepting the possibility that the voters heard his pitch and disagreed with him, however, Sanders has started to dismiss his loss as inauthentic, the product of shadowy forces misleading the easily duped voters rather an an authentic rejection, by the voters, of his ideas.
It has been pointed out here and in other places that Sanders seems perfectly happy with the primary system so long as he wins, especially the caucus system which most of us despise, but whenever he comes up short he IMMEDIATELY claims that the process is rigged or broken.
At first it was easy to laugh off, but now that it has taken root, and there are people essentially calling every primary that Bernie lost illegitimate, and calling for a massive overhaul of the entire, it is really no longer a laughing matter.
Remember this is the same system that selected Jimmy Carter in the 1970's, Bill Clinton in the 1990's, and Barack Obama in 2008.
And of course back then their opponent's supporters also thought the system was rigged, and cried foul. THAT is also essentially part of the process.
If you think WE have it bad just imagine how the Republicans must feel having just selected the orange tinted short fingered vulgarian as their candidate. If ever a primary process needed overhauling, that would seem to be the party to take that leap first.
Over
on the Huffington Post
they have offered a helpful guideline on how elections work for the more fact resistant of the Bernie supporters.
Speaking of Bernie supporters I finally had a long conversation with my daughter last night.
I initially called to ask her if she thought the attacks being launched against Hillary by Trump, which dredge up Bill Clinton's past indiscretions and blame her for being an enabler, would work with young millennial females.
She said absolutely not, and that her friends find him more repulsive every time he opens his mouth.
I thought so, but it never hurts to check.
So after that we discussed the state of the Democratic primary and she expressed disappointment over how it played out and that she still feels that Bernie would have been the best choice.
However she is facing facts and has every intention of voting for Hillary in the general.
She also shared that after the New York primary the number of pro-Sanders Facebook posts on her timeline dropped dramatically, and since that time have only been intermittent.
She said that a lot of her friends, who were inspired by the simple message put forth by Sanders, were now pretty disgusted with the back and forth between Hillary and Trump.
She also said that right now a lot of them are feeling drained by the process and many simply want to ignore the whole thing until it is over.
So I said I understood that and reminded her of how all of the Obama supporters felt after he was elected and immediately ran into a Republican wall of resistance which made it almost impossible for him to push through his agenda.
I then reminded her that if you are really unhappy with the way things are going then giving up is not an option, and went on to bore her with stories of the civil rights movement, the anti-war movement, and the current progress of the LGBT movement. And that if she and her fellow millennials want to change the party platform, and the political process, they need to stay engaged and not take their ball and go home.
The call ended after I started singing "We Shall Overcome." Off key of course.
What can I say, I was caught up in the moment.