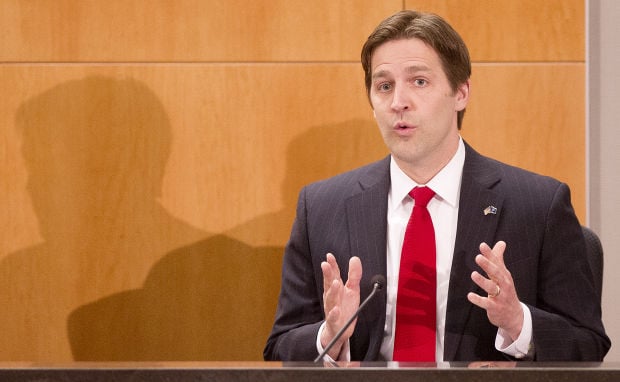 "What the hell is happening?"

Courtesy of
Yahoo News
:
Not a fan of Hillary Clinton or Donald Trump? You're not alone.
In a lengthy open letter late Wednesday night, Sen. Ben Sasse, R-Neb., gave voice to the countless Americans who feel frustrated with their likely options for the next commander in chief.
The freshman senator, who made waves last November for criticizing party partisanship in his floor debut, addressed his message posted on Facebook to "those who think both leading presidential candidates are dishonest and have little chance of leading America forward," or – put more simply – the "majority of America."
"If you are one of those rare souls who genuinely believe Hillary Clinton and Donald Trump are honorable people — if they are the role models you want for your kids — then this letter is not for you," he wrote. "Instead, this letter is for the majority of Americans who wonder why the nation that put a man on the moon can't find a healthy leader who can take us forward together."
Well it is not often that I agree with a staunch conservative, especially one endorsed by both Ted Cruz and Sarah Palin, but I have to say that I am totally on board with this.
By gosh it IS high time for a third party to emerge and challenge the status quo.
I think that if the Sanders and Trump campaigns proved anything it was that people are sick and tired of the same old talking points, coming out of the same old political parties.
What we need is a shot of adrenaline and where better to get that then from the super Right Wing of the Republican party?
I mean sure I guess the disgruntled Bernie Bros could throw something together in between toking up, studying for their midterms, and doing their laundry at their parent's house, but they do not have what the ultra conservatives already have at their disposal.
The Tea Party.
I mean come on that was almost a third party back in 2010 and 2012, so all Sasse and his cronies have to do is refill their oxygen tanks, power up their mobility scooters, and they are all set and ready to roll.....slowly toward Kinkos to start making flyers.
So let me reiterate.
Third party is a good idea, but ONLY if it is a conservative third party.
Because let's face it THAT is what would have the most positive impact on the outcome of the 2016 presidential race.
Seriously, I feel good about this.