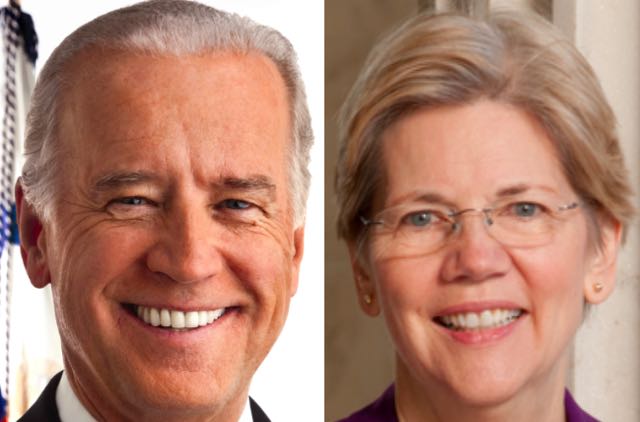 Courtesy of
Politico
:
Joe Biden took months to decide he wouldn't run for president — but he was sold on Elizabeth Warren as his running mate from the start, people familiar with the situation told POLITICO.
And he still thinks the Massachusetts firebrand would be Hillary Clinton's best choice to replace him as the nation's No. 2 in January 2017.
Biden, a stalwart Democrat who has veered leftward in recent years — but, as a centrist senator, voted to scuttle the Glass-Steagall prohibitions on banks engaging in speculative investments — favored Warren because he needed a partner to capture the wave of anti-bank, anti-establishment anger raging to his left.
Warren, a freshman senator from Massachusetts, who supports breaking up the big banks and re-imposing 1930s-era Wall Street regulations to prevent another global financial crisis, was Biden's "only real choice," according to an official he spoke to at the time.
The article goes on to say that while Warren was not displeased to be asked, she told Biden that he would be unable to run to Clinton's left as he had essentially the same baggage.
Now I would like to take a moment to point out to the many naysayers out there that the sitting Democratic Vice President agrees with me that Warren needs to be Hillary Clinton's running mate. So what do you say to that?
Warren is exactly what Hillary needs to give her that anti-Wall Street cred, Warren is already slapping the crap out of Trump on Twitter, and now the guy who seems to always be a few steps ahead of his fellow Democrats is saying that she is Clinton's obvious choice.
This is happening folks, I can feel it.