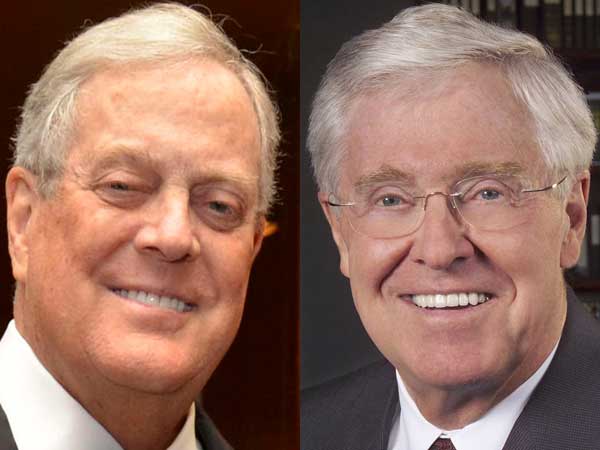 Charles and David Koch
Courtesy of
Desmog
:
Millions of dollars have been pouring into conservative media outlets and student journalism projects from the same groups funding climate science denial, a DeSmog analysis has found.
Analysis of IRS tax filings shows the funding groups, including some linked to the oil billionaire Koch brothers, are trying to combat a perceived left-wing bias in media with cash to ideologically-aligned projects.
Many of the funded journalism projects also produce stories that claim human-caused climate change is either a liberal hoax or that policies to mitigate it, such as promotion of renewable energy, are an unnecessary drag on the economy.
DeSmog found that two linked funds — Donors Trust and Donors Capital Fund — have been a key source of cash for organisations attacking climate science and opposing policies to cut greenhouse gas emissions.
DCF and DT have been described as the "dark money ATM" of the US conservative movement.
Not really a surprise, just a reminder that much of what is broadcast by Right Wing news outlets is propaganda paid for by one conservative group or another. And usually the misinformation is potentially damaging to this country and in this case even to the planet on which we live.