Courtesy of
Bloomberg
:
Share on Democrat Hillary Clinton has opened up a double-digit lead nationally over Republican Donald Trump, whose negatives remain unusually high for a presidential candidate amid early indications that the Orlando terrorist attack has had little direct impact on the 2016 race.
A new Bloomberg Politics national poll shows Clinton leading Trump 49 percent to 37 percent among likely voters in November's election, with 55 percent of those polled saying they could never vote for the real-estate developer and TV personality.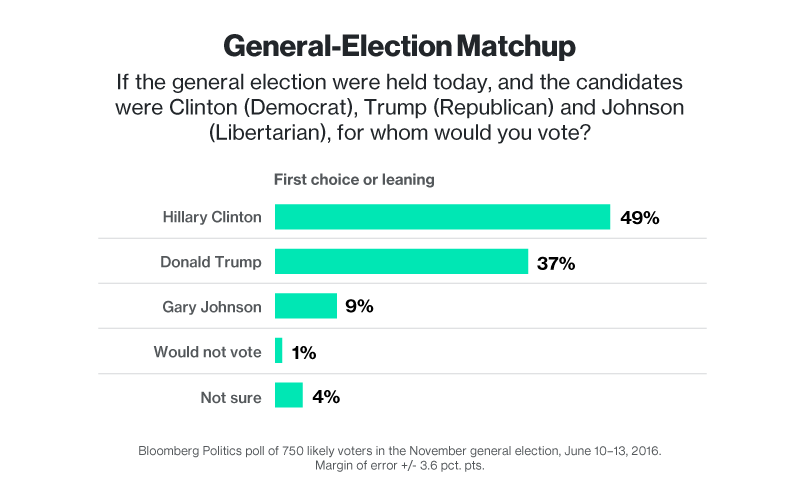 Perhaps even more telling is the fact that Donald Trump is apparently losing
the support of his own party
:
The Republican Party's last nominee for president, Mitt Romney, hosted a gathering of hundreds of Republican conservatives in Park City, Utah, devoted to assailing his successor, Donald Trump. Romney's former running mate, Paul Ryan, the once-revered speaker of the House, was grilled for supporting the candidate whose recent remarks the speaker himself called "a textbook case of racism." In another speech, a recent GOP nominee for governor of California—Meg Whitman—explicitly compared the nominee to Hitler and Mussolini.
What was so remarkable about these and other acerbic remarks made at Romney's gathering of GOP donors and business people was that they came from inside the party Trump will soon lead into battle. And they stem from doubts not about Trump's policies, but about his fundamental fitness for the office. Dan Senor, former Romney adviser and Bush White House national security aide, even said that Trump's comments about Obama suggest "there should be serious concern" about sharing classified information with Trump—information presidential nominees regularly receive.
And then there is this:
Republicans are counting on Hillary to do what they couldn't: stop Trump. That's why none of them are attacking her Trump speech.

— Kaili Joy Gray (@KailiJoy) June 5, 2016
And
this
:
So let me remind you all again that it does not pay to be cocky, and that if we do not show up to the polls none of this early good news will make a bit of difference.
But we have the opportunity my friends to be involved in the most historic election in modern times.
Not only will we elect the first female President in this country's history, but that vote will also cause one of our two primary political parties to completely reassess who they are, and force them to either evolve or die.
If the Republican party cannot find success by pandering to the most conservative among them, then what choice do they have but to move towards the middle and become more centrist?
There is a progressive wave in this country, and with the unwitting help of Donald J. Trump we may finally see it wash away the ugliest parts of who we are as a nation.