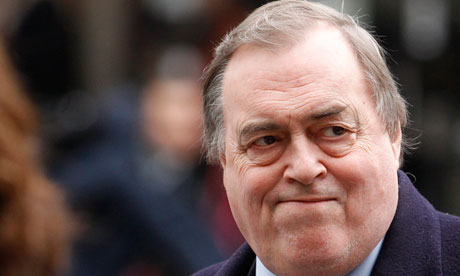 Courtesy of the
BBC
:
John Prescott, who was deputy prime minister when Britain went to war with Iraq in 2003, says the invasion by UK and US forces was "illegal".
Writing in the Sunday Mirror, he said he would live with the "catastrophic decision" for the rest of his life.
Tony Blair has apologised for mistakes he made but has said he stands by his decision to take the country to war.
Lord Prescott said Mr Blair's statement that "I am with you, whatever" in a message to US President George W Bush before the invasion in March 2003, was "devastating".
He said he now agreed "with great sadness and anger" with former UN secretary general Kofi Annan that the war was illegal.
"A day doesn't go by when I don't think of the decision we made to go to war. Of the British troops who gave their lives or suffered injuries for their country. Of the 175,000 civilians who died from the Pandora's Box we opened by removing Saddam Hussein," he went on.
He also expressed his own "fullest apology", especially to the families of British personnel who died.
This of course is in response to that Chilcot report that
I posted about earlier
.
I have long ago given up hope that we could see something happen in America like what is happening in Britain right now concerning the Iraq War decision.
However I have to say with what we are seeing in Britain gives me the tiniest amount of hope that if the Democrats were able to regain the Senate, and possible the House, that they would launch a Chilcot-like investigation of their own and we could finally bring a little justice to the families of the soldiers that fell in that bloody and completely unnecessary conflict.
And how gratifying would it be for Hillary Clinton, who says that her vote in favor of Bush's "resolution to use force" is the vote that she regrets the most, to be the person in the White House when that justice finally came to pass?
I know, I know, I am fantasizing out loud.
But do you know what, before the findings of that Chilcot report so were a number of like minded British citizens.
So many things that I have hoped for have come to pass, so who's to say that this fantasy might not one day become a reality?