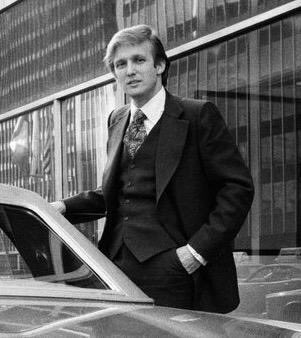 So as we have all observed the New York Times has been unrelenting in its unflattering Trump reportage. Which seems fair because let's face it New York has to take the blame for Trump to some degree, just like Alaskans had to take responsibility for Sarah Palin back in 2008.
However to be fair the New York Times was telling us what we needed to know about Trump from the very beginning.
This is from Trump's VERY FIRST write up in
the Times
:
Major Landlord Accused Of Antiblack Bias in City
The Department of Justice, charging discrimination against blacks in apartment rentals, brought suit in Federal Court in Brooklyn yesterday against the Trump Management Corporation, a major owner and manager of real estate here.
The corporation, which owns and rents more than 14,000 apartments in Brooklyn, Queens and Staten Island, was accused of violating the Fair Housing Act of 1968 in its operation of 39 buildings. Most are in Coney Island, Brooklyn, and in Jamaica Estates and Forest Hills, Queens.
Seeking an injunction to halt alleged discriminatory practises, the Government contended that Trump Management had refused to rent or negotiate rentals "because of race and color." It also charged that the company had required different rental terms and conditions because of race and that it had misrepresented to blacks that apartments were not available.
At the corporation's main office, 600 Avenue Z in Brooklyn, Donald Trump, president, denied the charges.
"They are absolutely ridiculous," he said. "We never have discriminated, and we never would. There have been a number of local actions against us, and we've won them all. We were charged with discrimination, and we proved in court that we did not discriminate."
So to be clear Trump's very first appearance in the Times was due to a lawsuit that the federal government filed over racism.
And the first time that he was quoted in the paper was to deny that he had done anything wrong.
Once you realize that, it kind of puts this into a whole new perspective.
— The Situation Room (@CNNSitRoom) August 19, 2016
The answer?
Everything.
P.S. That this was indeed Trump's first appearance in the paper was confirmed by no less a source than the
New York Times itself
.