You can see the moment that Trump loses the room.
It is at the 12:36 mark where Trump "jokes" that Clinton is so corrupt that she was kicked off the Watergate Commission. And then he just keeps on digging himself into an every deepening hole.
And when he accused Hillary of hating Catholics I thought we might actually see a church sanctioned lynching.
I have no idea what Trump was thinking, but if he was thinking that he wanted to lose the Catholic vote, he might have made a little progress in that area.
Here was how
ABC News
reported on the event:
The dinner in New York, to benefit charity, is supposed to be a light-hearted roast where the presidential candidates take jabs at themselves and each other, but the event came just a day after the particularly nasty third presidential debate.
During the debate, the candidates didn't shake hands or acknowledge each other before or after the forum.
Trump, who spoke first, tried at first to keep things light-hearted, but quickly turned to harsh criticism about Clinton, who he described as "corrupt." His remarks drew boos from the crowd, unprecedented for the event in the memories of observers.
"Hillary believes it's vital to deceive the people by having one public policy. And a totally different policy in private. That's okay," he said, to boos from the crowd. "I don't know who they're angry at, Hillary, you or I? For example, here she is tonight in public, pretending not to hate Catholics."
My understanding is that the candidates hire their own joke writers to help them with their speeches, however it appears that Trump's joke writers are the same trolls who send those emails of Michelle Obama as a chimp, and Hillary Clinton being burned as a witch.
I heard repeatedly on cable news that this is the FIRST time in the history of this Al Smith dinner than anybody has ever been booed. And remember this was a room full of priests!
So I think it is only fair to also post Hillary's remarks.
As you will see her joke writers actually had some talent, and her delivery was a little more in keeping with the mood of the event. See? There were still a few barbed remarks, and jokes at Trump's expense, but in no way did Hillary overstep any boundaries or lose the crowd.
And besides that some of her jokes were actually funny.
I almost think this dinner served as a microcosm of the two campaigns.
There's Hillary, disciplined, prepared, and self deprecating.
And then there's Trump, angry, humorless, and nasty to his core.
P.S. Oh there was at least one person who was more upset by Hillary's remarks than Trump's.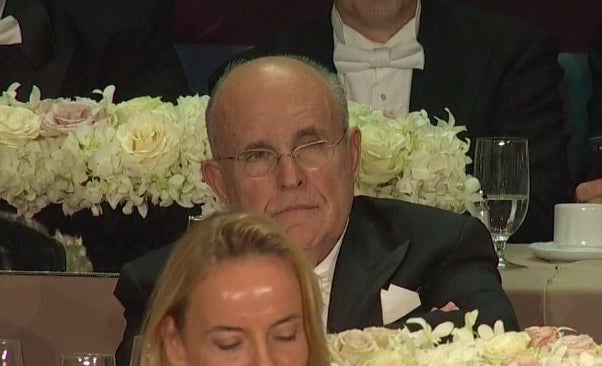 Courtesy of
HuffPo
:
During her spiel, Clinton gave a shout-out to the "wonderful elected officials" in the room. "The honorable Chuck Schumer. The honorable Andrew Cuomo. The honorable Mike Bloomberg."
"And, we have Rudy Giuliani," she said to laughs.
The camera panned to his face in the crowd. There was nothing even resembling a smile going on there. It was just a scowl and a pair of lopsided glasses hanging on his nose.
Okay now THAT'S funny!