Courtesy of
Cracked
:
Over the last few weeks a growing number of people have started wondering, "Is it possible the United States is heading for a new civil war?" Granted, most of those people are writers for sites like Russia Today or the Huffington Post, and thus slightly less credible than a handful of Bazooka Joe gum wrapper comics. But Donald Trump has made a few tinpot dictator-ish statements recently.
And we did just see an anti-government militia get off scot-free for occupying a federal building and pooping just, everywhere.
The reporter, Robert Evans, then post a number of chilling headlines and interviews a number of experts on militia groups, former government employees, and educators.
One expert on insurgencies had this to say:
Colonel David Couvillon, a Marine Reserve officer who governed the Wasit province of Iraq after the start of the occupation, pointed out that insurgents can win without convincing anyone that they're "right." It'd be enough to push most Americans into the "both sides are evil" camp, which ... isn't an unfamiliar place for most of us to be.
"If you undermine the moral authority that the government or the military or the police forces have, you win. Then they become the enemy to everybody ... it may not goad you into armed insurgency, but it will goad you into a certain acceptance. And once the guerrillas reach acceptance, they have a path to win."
Good luck sleeping tonight with those thoughts running through your mind.
One of the experts on militias that Cracked interviewed for this story is a guy very familiar to IM readers.
Bill Fulton, an expert on the American militia movement and informant for the FBI, has far more than 170 groups on his list of "armed, violent organizations that might take a shot at the Federal Government". That's out of an estimated 1,360 "radical militias and anti-government groups" in the United States in 2012 (note that there were just 149 four years before)
"You have a lot of different people who believe the world should be different ways and once the gloves come up like they did in Iraq then all of those rise to the surface...I think depending on how far down the rabbit hole you want to go, we could end up with three or four hundred solid, different groups under probably twenty or so ideological banners."
Trust me the rest of the article is just as troubling, and by the end of it you will probably be crawling through your house closing all of the blinds.
One of the things in the article that I found noteworthy is that none of the people interviewed seemed to think that Donald Trump would be terribly involved in an insurgency.
Oh he would be perfectly willing to incite the violence, but he has no stomach for the actual fighting.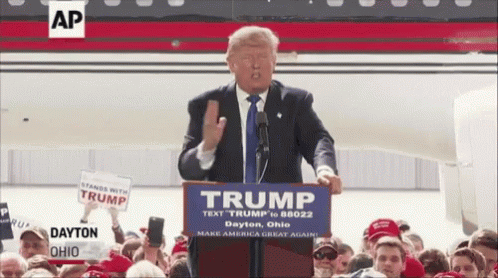 Remember?
So is this a serious threat?'
Boy I would certainly like to say that it wasn't, but after reading this article I am not so damn sure anymore.
All I know is that our first step in preventing something like this is to keep Cheeto Jesus out of the White House. So let's do that first shall we?