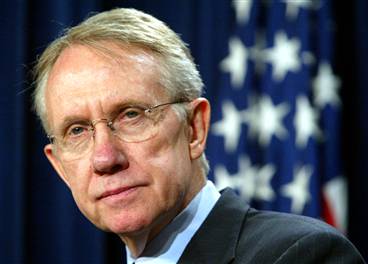 Courtesy of
HuffPo
:
Donald Trump's campaign colluded with WikiLeaks in the runup to the presidential election to damage Hillary Clinton, outgoing Senate Minority Leader Harry Reid (D-Nev.) charged on Monday.
Reid, who has sharply criticized FBI Director James Comey for sitting on intelligence connecting Russian operatives and the Trump campaign, said he was unsure if Trump himself was aware of the activity. But he said people in Trump's orbit certainly were.
"Someone in the Trump campaign organization was in on the deal. I have no doubt. Now, whether they told [Trump] or not, I don't know. I assume they did. But there is no question about that," Reid said in an interview with The Huffington Post. "So there is collusion there, clearly."
"Don't put blindfolds on," he said. "Here is the deal: We have a situation where during the campaign, especially the last few months of the campaign, WikiLeaks was heavily involved in trying to hurt Hillary Clinton and it helped Trump. And you have Trump who said he likes Putin better than he likes Obama."
You know considering that
Paul Manafort
, Trump's former campaign chairman, has deep ties with Russia, I concur with Reid that it is VERY likely that Trump's campaign coordinated with Russia on these hacks and how they were released.
And it is not as if Russia's ties to the Trump campaign were exactly secret
even months ago
.
Remember Trump himself once
invited the Russians to hack Hillary
while appearing on TV.
Personally I would like to see someone in the Clinton campaign, or "gasp Obama administration, make this same accusation.
Because I think they are completely justified in doing so.
Update: Well if you wish I guess you will receive.
I wrote this post late in the afternoon yesterday, and then late last night President Obama was on
The Daily Show with Trevor Noah
and essentially did exactly what I wished he would do.
Courtesy of the
Daily Beast
:
Noah didn't waste any time before asking Obama about the report.
Obama then pointed to the Oct. 7 joint statement issued by the Department of Homeland Security and the Office of the Director of National Intelligence, which said: "The U.S. Intelligence Community (USIC) is confident that the Russian Government directed the recent compromises of e-mails from US persons and institutions, including from US political organizations."
"Well, it's not a rush. Keep in mind, when the DNC got hacked, we immediately assigned our intelligence community—our law enforcement—to investigate what had happened. And we determined—and announced—in October that it was the consensus of all the intelligence agencies in law enforcement that organizations affiliated with Russian intelligence were responsible for the hacking of the DNC materials that were being leaked. That was a month before the election. This was not a secret," the president said.
"I will say this, though, Trevor: None of this should be a big surprise," he continued. "This was reported on before the election. I don't think there was any doubt among anybody in the media or among members of Congress as to who was being advantaged or disadvantaged by the political gossip that was being put out in drip-drip-drip fashion leading up to the election."
Then POTUS took things one step further, drawing a line between President-elect Donald Trump's team and the Russians.
"This was not a secret running up to the election!" exclaimed Obama. "The president-elect [Trump] in some of his political events specifically said to the Russians, 'Hack Hillary's emails so that we can finally find out what's going on, and confirm our conspiracy theories.' You had what was very clear relationships between members of the president-elect's campaign team and Russians, and a professed shared view on a bunch of issues."
And there you have it, in his own very careful way President Obama has essentially confirmed that the Russian government hacked American agencies and civilians in order to hurt Hillary Clinton and help Donald Trump get elected.
He did not go as far as to openly accuse the Trump campaign of collusion with the Russians, but he left little doubt that such was the case.