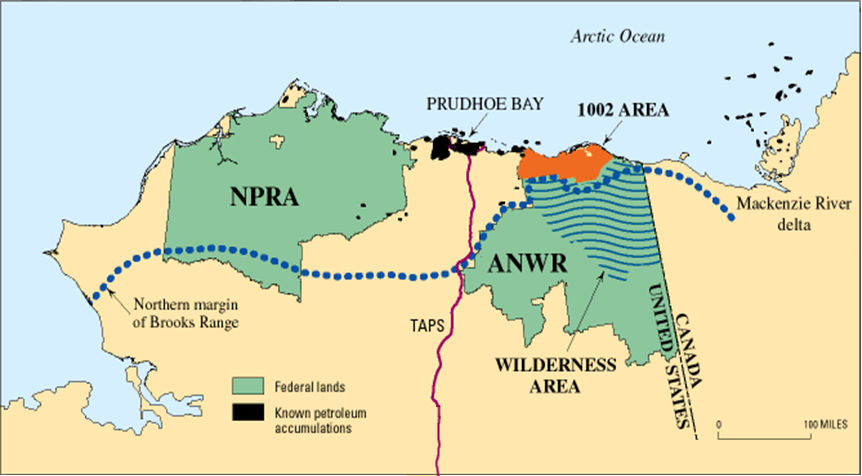 Courtesy of the
Fairbanks Newsminer
:
Another chapter has begun in the decades-long battle over drilling the Arctic National Wildlife Refuge.
U.S. Sens. Lisa Murkowski and Dan Sullivan introduced legislation Friday that would open a section of the Arctic National Wildlife Refuge to limited oil and gas exploration, according to a news release from the U.S. Senate Energy Committee on Energy and Natural Resources.
The proposed Alaska Oil and Gas Production Act would allow development of 2,000 surface acres in the refuge's coastal plain. When the refuge was expanded and renamed under the Alaska National Interest Lands Conservation Act in 1980.
1.5 million acres — often referred to as section 1002 — was designated as a deferred oil and gas development sigh that requires congressional approval to be developed. Oil and gas exploration would occur within the 1002 area.
"For nearly 40 years, Alaskans have proven that we can responsibly develop our natural resources while protecting the environment," Murkowski said in the news release. "Alaskans overwhelmingly support responsible development in the non-wilderness portion of ANWR and there is no valid reason why we should not be allowed to proceed. Allowing development would create new jobs, reduce our deficits, and protect our national security and competitiveness for a generation."
Of course as every Alaskan knows this is the holy grail of Alaskan politics, and no politician, on other side of the ideological fence, can be elected without voicing support for the opening of ANWR.
However the article also mentions that by the time oil was discovered, drilled out of the ground, and ready to send through the pipeline ten years would have passed.
That is ten more years of progress with renewable energy research around the world, ten more years of moving away from fossil fuels, and ten more years of oil prices dropping until it is no longer financially viable to explore and tap new sources of crude oil.
I think that this is a pipe dream. (Pardon the pun.)
I am not saying that it cannot pass with a GOP majority in the House and Senate and Trump in the White House, I am simply saying even if it does pass it is unlikely that Alaska will see any revenue from new oilfields in ANWR.
I also think that many of our politicians already know that and are only playing this game because they feel they have no choice.