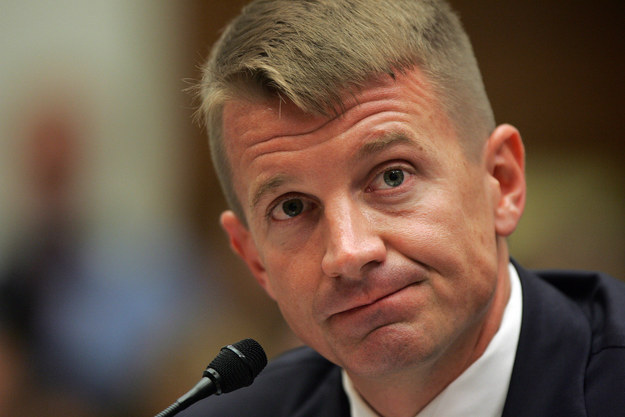 Courtesy of
WaPo
:
The United Arab Emirates arranged a secret meeting in January between Blackwater founder Erik Prince and a Russian close to President Vladi­mir Putin as part of an apparent effort to establish a back-channel line of communication between Moscow and President-elect Donald Trump, according to U.S., European and Arab officials.
The meeting took place around Jan. 11 — nine days before Trump's inauguration — in the Seychelles islands in the Indian Ocean, officials said. Though the full agenda remains unclear, the UAE agreed to broker the meeting in part to explore whether Russia could be persuaded to curtail its relationship with Iran, including in Syria, a Trump administration objective that would be likely to require major concessions to Moscow on U.S. sanctions.
Though Prince had no formal role with the Trump campaign or transition team, he presented himself as an unofficial envoy for Trump to high-ranking Emiratis involved in setting up his meeting with the Putin confidant, according to the officials, who did not identify the Russian.
Wait, what?
The article goes on to point out that Erik Prince is the brother of Secretary of Education Betsy Devos and that he donated a quarter of a million dollars to Trump's campaign.
This is how a spokesman for Prince responded to this story:
"Erik had no role on the transition team. This is a complete fabrication. The meeting had nothing to do with President Trump. Why is the so-called under-resourced intelligence community messing around with surveillance of American citizens when they should be hunting terrorists?"
Actually you know this seems to be potentially a hell of a lot more concerning than a simple terrorist plot. So I am good with the intelligence community pursuing this.
Here is a little something else to keep in mind
from a report
early last month:
An alleged computer server connection between the Trump Organization and Alfa Bank, an influential financial institution in Russia with connections to both the Russian and Ukrainian elite, is still being investigated by the FBI, according to a new report by CNN.
The FBI's counterintelligence team, which is also looking into Russia's suspected hacking of Democratic National Committee servers and the email account of her campaign chairman, is investigating why a computer server owned by Alfa Bank repeatedly looked up a computer server owned by the Trump Organization in Lititz, Pennsylvania. Eighty percent of the attempts to look up that Trump computer server were performed by Alfa Bank — 2,820 in total — with almost all of the rest being conducted by Spectrum Health, a medical facility chain for which Dick DeVos, the husband of Trump's education secretary, Betsy DeVos, serves as chairman of the board.
Paul Vixie, who designed the DNS system used by the modern internet, previously told Slate that the most likely explanation for the interactivity between the Alfa Bank and Trump Organization servers is that they "were communicating in a secretive fashion."
The explanation offered by Alfa Bank is that this was all probably due to spam, but it was discounted because it was only happening between these entities and was not widespread.
And just to add a little more fuel to the fire here, yesterday we also learned that two years ago Trump's former campaign adviser, Carter Page, had been
recruited by Russian spies
:
Two years before joining the Trump campaign as a foreign policy adviser, New York business consultant Carter Page was targeted for recruitment as an intelligence source by Russian spies promising favors for business opportunities in Russia, according to a sealed FBI complaint.
Page confirmed to ABC News that he is the individual identified as "Male-1" in a 2015 court document submitted in a case involving the Russian spies.
Page told ABC News he cooperated in the case, and felt the Feds "unmasked" him by describing him in January 2015 in a manner that would be known to energy insiders.
"I didn't want to be a spy," he said in an interview early Monday afternoon. "I'm not a spy."
Okay can we just go ahead and state for the record that Donald Trump, and his team, were colluding with the Russians?
Or are we still not sure?