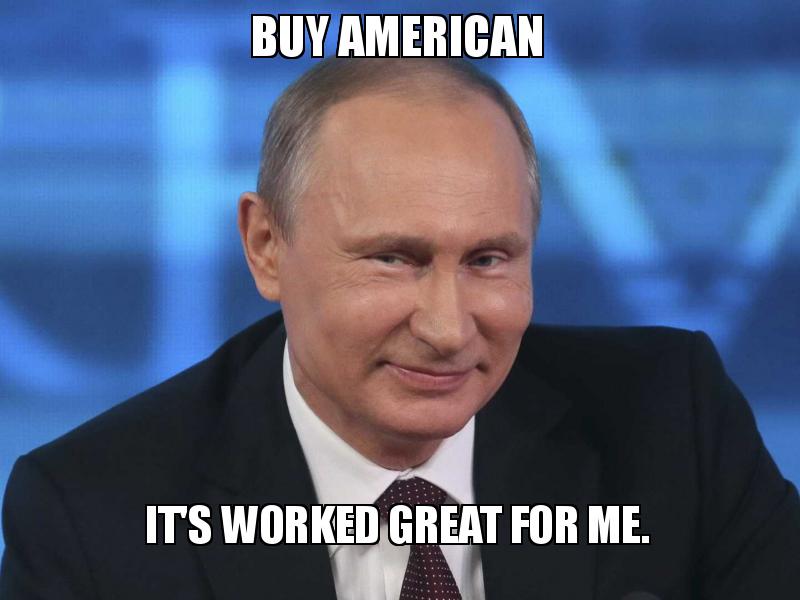 Courtesy of
Reuters
:
A Russian government think tank controlled by Vladimir Putin developed a plan to swing the 2016 U.S. presidential election to Donald Trump and undermine voters' faith in the American electoral system, three current and four former U.S. officials told Reuters.
They described two confidential documents from the think tank as providing the framework and rationale for what U.S. intelligence agencies have concluded was an intensive effort by Russia to interfere with the Nov. 8 election. U.S. intelligence officials acquired the documents, which were prepared by the Moscow-based Russian Institute for Strategic Studies [en.riss.ru/], after the election.
The institute is run by retired senior Russian foreign intelligence officials appointed by Putin's office.
The first Russian institute document was a strategy paper written last June that circulated at the highest levels of the Russian government but was not addressed to any specific individuals.
It recommended the Kremlin launch a propaganda campaign on social media and Russian state-backed global news outlets to encourage U.S. voters to elect a president who would take a softer line toward Russia than the administration of then-President Barack Obama, the seven officials said.
A second institute document, drafted in October and distributed in the same way, warned that Democratic presidential candidate Hillary Clinton was likely to win the election. For that reason, it argued, it was better for Russia to end its pro-Trump propaganda and instead intensify its messaging about voter fraud to undermine the U.S. electoral system's legitimacy and damage Clinton's reputation in an effort to undermine her presidency, the seven officials said.
As I have said many times before, if you failed to vote or voted third party because you did not trust the system, congratulations you were what the Russians call a "useful idiot."
Russia Today and Sputnik published anti-Clinton stories while pro-Kremlin bloggers prepared a Twitter campaign calling into question the fairness of an anticipated Clinton victory, according to a report by U.S. intelligence agencies on Russian interference in the election made public in January.
Russia Today's most popular Clinton video - "How 100% of the 2015 Clintons' 'charity' went to ... themselves" - accumulated 9 millions views on social media, according to the January report.
The report said Russia Today and Sputnik "consistently cast president elect-Trump as the target of unfair coverage from traditional media outlets."
The article goes on to say that the actual Russian hacking was a covert intelligence operation handled by the Kremlin, though the two strategies worked hand in hand.
The overt propaganda and covert hacking efforts reinforced each other, according to the officials. Both Russia Today and Sputnik heavily promoted the release of the hacked Democratic Party emails, which often contained embarrassing details.
It is just so depressing that so many people were this easily manipulated.
And keep in mind this is still happening right now.
So if there is ANY good at all to come out of this it should be that people start checking the sources from which they are receiving their information to make sure of its validity, but also to make sure that they are not simply being manipulated.
And in the meantime we must resist EVERYTHING that this Putin appointed puppet attempts to do, because remember Russia did not choose him because he would "Make America Great Again," but because they knew he would do the exact opposite.