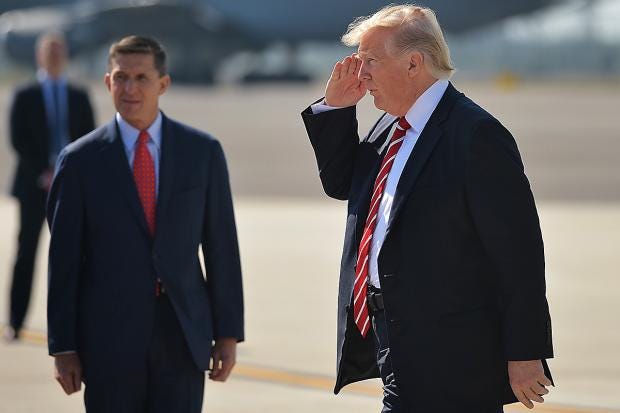 Courtesy of the
Daily Beast
:
President Donald Trump pressured a "reluctant" Michael Flynn into accepting a job as the White House's top national security official even after Flynn warned the president that he was under investigation over undisclosed lobbying on behalf of a foreign government, The Daily Beast has learned.
The president's continued loyalty to his ousted former aide is so strong, in fact, that the two have remained in touch despite the potential that their communication could be portrayed as White House interference in a federal investigation.
That's right even though both Flynn and Trump are both the subject of numerous investigations, they are still texting and calling each other like Middle School gossips.
And this despite the fact that
Trump's lawyers have warned him
to knock this shit off:
White House lawyers have had to warn President Donald Trump repeatedly against reaching out to his fired National Security Adviser Michael Flynn, two people familiar with the matter tell The Daily Beast.
Trump, angered by press coverage of the Russia investigation and Gen. Flynn, has asked senior staff and the White House counsel's office multiple times if it was appropriate to reach out to the fired National Security Adviser, according to a source close to Flynn and a Trump administration official with direct knowledge of the exchanges.
And if that was not shocking enough, Trump STILL wants Flynn back in the White House:
But Trump doesn't just hope that Flynn will beat the rap. Several sources close to Flynn and to the administration tell The Daily Beast that Trump has expressed his hopes that a resolution of the FBI's investigation in Flynn's favor might allow Flynn to rejoin the White House in some capacity—a scenario some of Trump's closest advisers in and outside the West Wing have assured him absolutely should not happen.
Those sources said Trump didn't believe Flynn should be under investigation in the first place.
"Trump feels really, really, really bad about firing him, and he genuinely thinks if the investigation is over Flynn can come back," said one White House official.
I guess that helps to explain why Trump was pressuring Comey to end this investigation, so that Flynn could rejoin him in the White House and they could stay up all night doing each other's hair.
Well considering the fact that this is all kinds of stupid, should we assume that this is just Trump being blindly loyal to a former friend, or is it possible that he is being directed to get Flynn back by somebody else.
You know, somebody who also has a comfortable relationship with Michael Flynn and wants him back advising Trump on national security.
I can't think of anybody off the top of my head, but use your imagination.
By the way, speaking of investigations, the House Intelligence Committee has now
gained access to valuable information from the Treasury Department
.
Well gee, now we will know for a fact if Trump has any financial ties with Russia or not.
Like we already don't know the answer to that question.