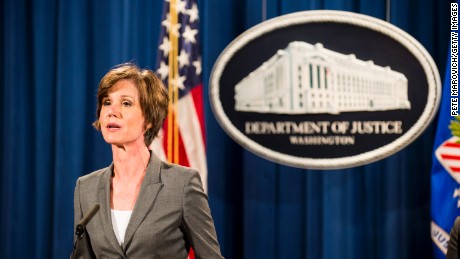 Courtesy of
CNN
:
Former Acting Attorney General Sally Yates is prepared to testify before a Senate panel next week that she gave a forceful warning to the White House regarding then-National Security Advisor Michael Flynn nearly three weeks before he was fired, contradicting the administration's version of events, sources familiar with her account tell CNN.
In a private meeting January 26, Yates told White House Counsel Don McGahn that Flynn was lying when he denied in public and private that he had discussed US sanctions on Russia in conversations with Russian Ambassador to the US Sergei Kislyak. Flynn's misleading comments, Yates said, made him potentially vulnerable to being compromised by Russia, according to sources familiar with her version of events. She expressed "serious concerns" to McGahn, making it clear -- without making a recommendation -- that Flynn could be fired.
Yates' testimony May 8 will be the first time the former acting attorney general will publicly speak about the White House meeting. A source familiar with the situation says that Yates will be limited on what she can tell the Senate judiciary subcommittee because many of the details involving Flynn are classified, meaning there may only be a few new revelations.
Yates would not comment ahead of the testimony.
I am REALLY looking forward to this testimony.
Just as much as I am sure that the Trump Administration is dreading it.