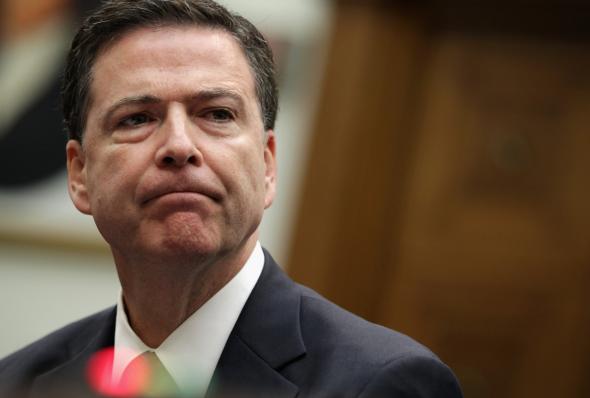 Courtesy of
CNN
:
Then-FBI Director James Comey knew that a critical piece of information relating to the investigation into Hillary Clinton's email was fake -- created by Russian intelligence -- but he feared that if it became public it would undermine the probe and the Justice Department itself, according to multiple officials with knowledge of the process.
As a result, Comey acted unilaterally last summer to publicly declare the investigation over -- without consulting then-Attorney General Loretta Lynch -- while at the same time stating that Clinton had been "extremely careless" in her handling of classified information. His press conference caused a firestorm of controversy and drew criticism from both Democrats and Republicans.
Comey's actions based on what he knew was Russian disinformation offer a stark example of the way Russian interference impacted the decisions of the highest-level US officials during the 2016 campaign.
The Washington Post reported Wednesday that this Russian intelligence was unreliable. US officials now tell CNN that Comey and FBI officials actually knew early on that this intelligence was indeed false.
So Comey used intelligence that he knew was fake to end an investigation, that he also must have known by then was based on false allegations?
Here's more:
In classified sessions with members of Congress several months ago, Comey described those emails in the Russian claim and expressed his concern that this Russian information could "drop" and that would undermine the Clinton investigation and the Justice Department in general, according to one government official.
Still, Comey did not let on to lawmakers that there were doubts about the veracity of the intelligence, according to sources familiar with the briefings. It is unclear why Comey was not more forthcoming in a classified setting.
I don't get this at all, becasue all Comey had to do if this information did "drop" was reveal that it was bullshit.
It seems more likely to me that Comey was more concerned about the response from the Right Wing fringe,
some of who also apparently work in the FBI
, to that fake intelligence, which of course they would NEVER believe to be fake at all.
That makes me wonder if that was not also part of the reason why Comey was so quick to send that letter about reopening the investigation based on those emails on Anthony Weiner's computer?
Is James Comey really this easily manipulated?
He is due to give testimony again after Memorial Day, perhaps we can get some answers about all of this at that time.