Courtesy of
IJR
:
Hannity has gone "underground" and is actively considering whether or not he will return to Fox News on Tuesday, a source close to Hannity told Independent Journal Review. It's a stunning development at the network, which has seemingly remained in a constant state of turmoil since the ouster of the late Roger Ailes.
Speculation ran wild earlier this week when the network announced Hannity would be taking a mid-week vacation amid controversy over the host's promotion of unverified reports suggesting a link between murdered DNC staffer Seth Rich and his alleged contact with WikiLeaks. Hannity is currently facing threats of advertiser boycotts from liberal groups like Media Matters. Multiple companies have since pulled ads from "Hannity."
In response to the rumors, a Fox News spokesperson said Hannity would "be back on Tuesday" after his Memorial Day weekend vacation, and people who "suggest otherwise are going to look foolish."
But the well-placed source said Hannity has since retreated to isolation — even temporarily "swearing off" social media — while he makes a decision regarding his future at Fox News. Hannity's last tweet was posted on Thursday afternoon.
"He has stopped answering his phone, and communicating even with his close friends," the source added.
Oh please, Hannity is getting canned and he knows it.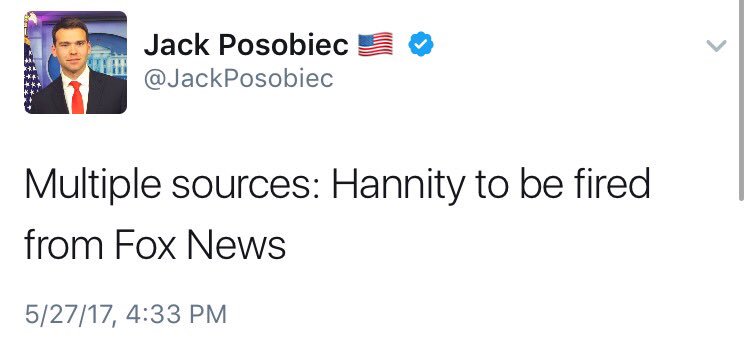 He is leaking this information to give the appearance that he has some say in whether he continues on at the cable outlet, but with advertisers fleeing like their hair is on fire, and his refusal to accept the truth about that Seth Rich story, I think we all know that he is simply trying to save face.
Though with a face like that I am not sure it is really worth saving.