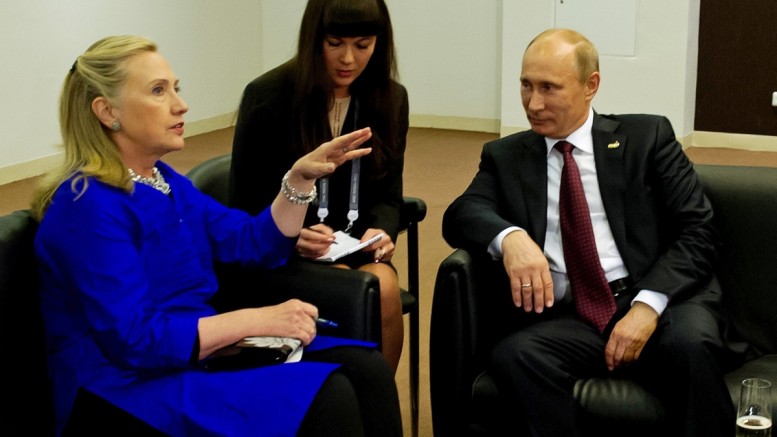 I am going to destroy you.
So do you remember this article from Time Magazine that I posted
yesterday morning
?
— TIME (@TIME) May 18, 2017
Well as it turns out it had this little nugget
contained within it
, that I missed entirely:
In May 2016, a Russian military intelligence officer bragged to a colleague that his organization, known as the GRU, was getting ready to pay Clinton back for what President Vladimir Putin believed was an influence operation she had run against him five years earlier as Secretary of State. The GRU, he said, was going to cause chaos in the upcoming U.S. election.
What the officer didn't know, senior intelligence officials tell TIME, was that U.S. spies were listening. They wrote up the conversation and sent it back to analysts at headquarters, who turned it from raw intelligence into an official report and circulated it. But if the officer's boast seems like a red flag now, at the time U.S. officials didn't know what to make of it. "We didn't really understand the context of it until much later," says the senior intelligence official. Investigators now realize that the officer's boast was the first indication U.S. spies had from their sources that Russia wasn't just hacking email accounts to collect intelligence but was also considering interfering in the vote. Like much of America, many in the U.S. government hadn't imagined the kind of influence operation that Russia was preparing to unleash on the 2016 election. Fewer still realized it had been five years in the making.
Everything that happened during the 2016 primaries and general election was manipulated and rigged by the Russians, with the help of the US media of course.
In fact they are STILL trying to destroy Hillary.
— Russian Embassy, UK (@RussianEmbassy) May 19, 2017
Of course this
has already been debunked
, but the Russians are well aware that we have millions if uninformed morons living in the US.
Well it certainly appears that those who saw through the bullshit and voted for Hillary in the primaries and general were the ones putting "America First" and fighting to retain our independence from a foreign government trying to undermine our democracy.
I'm just saying.