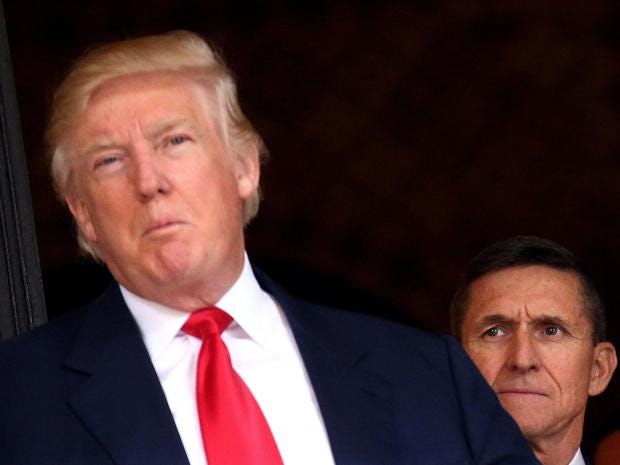 Courtesy of
Business Insider
:
Hackers believed to be Russian discussed how to steal Hillary Clinton's emails from her private email server and transfer them to Michael Flynn via an intermediary, The Wall Street Journal reported Thursday, citing reports compiled by US intelligence agencies investigating Russia's interference in the 2016 election.
One of those intermediaries, according to the Journal, may have been a GOP operative named Peter W. Smith — an 80-year-old opposition researcher who assembled a team of technology experts, lawyers and a Russian-speaking investigator in September 2016 to track down hacking groups with access to the 33,000 emails Clinton deleted from her private email server that she said were personal in nature.
Smith cited a working relationship with Flynn's consulting firm, Flynn Intel Group, when trying to recruit new team members, the Journal reported. And he told Eric York, a computer-security expert from Atlanta who searched the hacker forums on his behalf, that he was "talking to Michael Flynn" about the project and to let him know if he found anything, according to the Journal.
Flynn's lawyer, Robert Kelner, did not respond to request for comment. Smith told the Journal that the hacking groups who claimed to have the deleted Clinton emails — which he could not verify, and therefore did not publish — were probably Russian. There is no evidence the hackers infiltrated Clinton's server.
I very seriously doubt that anybody penetrated Clinton's private e-mail server, because we KNOW we would have seen evidence of that during the campaign.
Here is more from
Vox
:
Smith repeatedly claimed that he was in contact with Flynn about the effort to find Clinton's emails, per Harris's sources.
"He said, 'I'm talking to Michael Flynn about this — if you find anything, can you let me know?'" said Eric York, a computer-security expert from Atlanta who searched hacker forums on Mr. Smith's behalf for people who might have access to the emails. ...
... In phone conversations, Mr. Smith told a computer expert he was in direct contact with Mr. Flynn and his son, according to this expert. ... The expert said that based on his conversations with Mr. Smith, he understood the elder Mr. Flynn to be coordinating with Mr. Smith's group in his capacity as a Trump campaign adviser.
Furthermore, Harris describes, apparently for the first time, US intelligence reports claiming Russian hackers discussed how to get hacked emails to Flynn through a third party.
Investigators have examined reports from intelligence agencies that describe Russian hackers discussing how to obtain emails from Mrs. Clinton's server and then transmit them to Mr. Flynn via an intermediary, according to U.S. officials with knowledge of the intelligence.
If accurate, all this is enough to raise serious questions about just what Flynn knew about this or any other attempted outreach to Russian hackers.
It is pretty clear that Michael Flynn is a central character in all of these Russian investigations, which makes the fact that Trump tried to get Comey to end any investigation of Flynn even more suspect.
There was even talk that Trump wanted to bring Flynn back into his administration once the investigations ended.
The question that keeps pestering me is why is Flynn so damn important to Donald Trump?