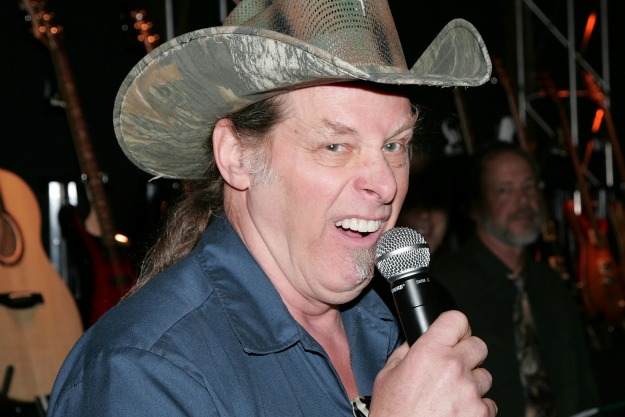 Courtesy of
The Kansas City Star
:
Nugent is a notorious provocateur, one who has attracted some infamous attention for his profane insults and bald-face threats to his political enemies. In June, however, after the shootings of Louisiana Congressman Steve Scalise and others at a baseball practice in Virginia, Nugent told a radio station that his wife had convinced him to stop with the "harsh terms" and "I encourage my friends/enemies on the left and in the Democrat and liberal world that we have to be civil to each other."
He kept his word for most of the show. Much of his carnival-barker-style rhetoric and sloganeering touted freedom, hunting, barbecue and his support for the military. He also assured the crowd several times that like every other show, he was treating this one as "the most important show of my life."
However, before the salacious "Wang Dang" song, he took an odd swipe at country music: "I was going to play a country song but I still have a (penis) so I can't do that." And before "Dog Eat Dog," he praised the president and then told members of the military he was sorry they'd had to serve eight years under his predecessor, a commander-in-chief who was an "absolute piece of s***. … And if that offends you, you're a piece of s***." So much for civility.
So
June 18th
to just about the end of July. What is that, just a little over a month?
Way to stick it out there Captain Poopypants.
Let's face it once an attention seeking POS, always an attention seeking POS.
And these three will never stop spreading hate and divisiveness everywhere they go.
In fact that one on the left is
working hard right now
to overshadow the other two.