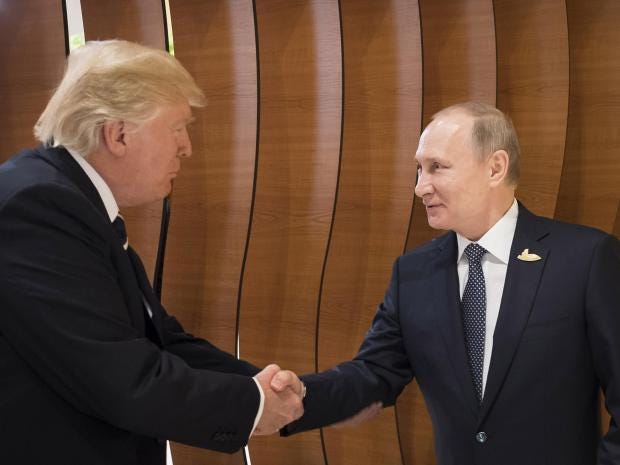 Courtesy of
HuffPo
:
The U.S. intelligence community's Jan. 6 report about Putin's work to help Trump says the propaganda campaign began with state-paid news organizations like RT and Sputnik.
"RT's coverage of Secretary Clinton throughout the U.S. presidential campaign was consistently negative and focused on her leaked e-mails and accused her of corruption, poor physical and mental health, and ties to Islamic extremism," the report states, adding that there was a sophisticated organization to widely distribute that propaganda on the Internet through "professional trolls."
"The likely financier of the so-called Internet Research Agency of professional trolls located in Saint Petersburg is a close Putin ally with ties to Russian intelligence," the report says.
Trolls were located in other areas, as well, including Macedonia, where an unusual number of pro-Trump websites were registered.
The number of people involved in the effort is not detailed in the Jan. 6 report, which is an unclassified version of a highly classified assessment. Virginia Sen. Mark Warner, the ranking Democrat on the Senate intelligence committee, in March said there may have been 1,000 such trolls.
If Putin did have that many people working to elect Trump, his operation was more than twice as large as the Trump campaign's paid staff in the final weeks before the election. And if each Putin cybersoldier was paid just $10,000 over the course of the year, that would put Russia's expenditure on its pro-Trump propaganda at $10 million, making Putin one of Trump's biggest financial supporters.
Robert Maguire, with the Center for Responsive Politics, said the situation is similar to rich donors funneling large contributions to secret-money political groups to buy ads.
"The main difference here is that you have a foreign government paying for the creation of stories that get picked up little by little by various news outlets, and in some cases by the candidate himself from the podium," Maguire said. "Obviously, the aim was to influence, but man, this is so beyond anything we've ever seen before. I mean, where do you even start with that?"
It is of course illegal for a foreign government to donate directly to a campaign, or purchase ads on their behalf, but with the creation of fake news stories that were then sent around on social media the Russians found a work around.
And this does not even take into consideration the amount of money and man hours the Russians spent in sending those phishing emails and of course the hacking itself.
Putin does not strike me as the kind of guy who just throws money around without the expectation of a return on his investment.
No, the Russians spent this money in a very targeted way, in order to achieve a very specific payoff.
And that payoff is not simply the election of the most under qualified and idiotic president in American history.