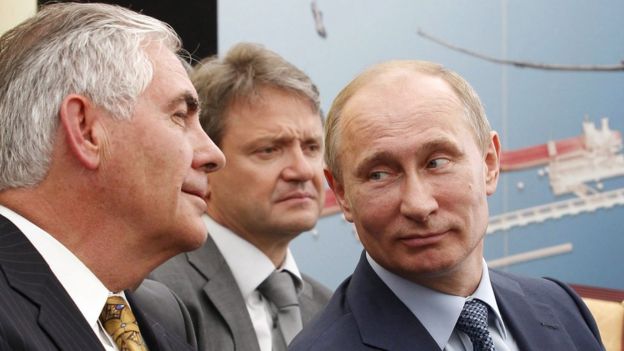 Courtesy of
Newsweek
:
Congress has given $80 million to the State Department to fight Russian propaganda and misinformation, but Secretary of State Rex Tillerson reportedly is reluctant to put it to use.
A former senior State Department official told Politico that Tillerson's spokesman, R.C. Hammond, suggested using the money to counter Russian disinformation and propaganda would rile Moscow.
"Hammond said the secretary is in the process of working through disagreements with Russia, and this is not consistent with what we're trying to do," the official said.
Tillerson and President Donald Trump have been working to mend relations with Russia from their "all-time low point" (in Tillerson's words) after U.S. intelligence agencies issued a report early this year concluding that the Kremlin worked to interfere in the 2016 election.
I'm sorry, WHO does Rex Tillerson work for again?
Since when has America not wanted to protect itself from Russian propaganda for fear it might hurt their feelings?
I am sure that the White House will want to label this "fake news," but that will be a tad difficult with their boss tweeting things like this:
Our relationship with Russia is at an all-time & very dangerous low. You can thank Congress, the same people that can't even give us HCare!

— Donald J. Trump (@realDonaldTrump) August 3, 2017
And then there's this:
🔥🔥🔥Top WH source: Trump spoke with Putin before he signed Russia sanctions bill. No word yet on what

#PutinsPuppet

told him, but stay tuned!

— Jon Cooper (@joncoopertweets) August 2, 2017
Yeah, in Trump world Congress is just a bunch of cock blockers interfering with the Trump Administration's love affair with the Kremlin.
And some on the Left want to start aggressively pointing out what should be obvious to everybody.
Courtesy of
Buzzfeed
:
A major progressive think tank wants Democrats to stop being shy about accusing the Trump campaign of colluding with Russia.
The Center for American Progress has written a nearly 50-page report for Democrats in Congress, making the case for collusion between President Donald Trump's campaign and Russia. The report, a draft of which was reviewed by BuzzFeed News ahead of its release Wednesday, makes the bold claim that "it is now clear there was collusion" and "this is the biggest political scandal in American history."
I have been saying for awhile that the evidence of collusion is literally all around us.
But clearly we need to start working harder to make that obvious to to those who still cannot, or will not, see it.