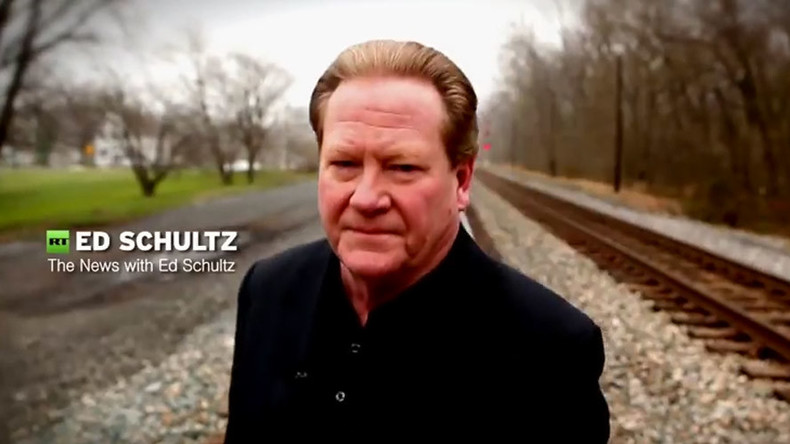 Courtesy of the
Daily Beast
:
Speaking this week in a National Review podcast, hosted by Jamie Weinstein and published Friday, the TV host refused to criticize Russian President Vladimir Putin for his troubling human-rights record, instead declaring that Putin is "viewed as a progressive Democrat" by the Russian people.
When confronted with his own past comments acknowledging Putin had a "nasty human rights record," Schultz focused on the "tremendous friction" between the U.S. and Russia, and claimed that his previous remarks about Putin "might have been overboard."
"Does he have a nasty human rights record?" Weinstein pressed further. "I think the United States has a nasty human-rights record," Schultz replied.
"I do think that every super power on the globe has a very poor record on human rights."
While his former home MSNBC has hit ratings gold—due, in part, to its extensive coverage of the ongoing probe into Russian ties to the Trump campaign—the famously bombastic progressive Schultz has gone in the opposite direction since departing the network in 2015.
As The New Republic noted in 2017, since joining Russia's state-owned television network, Schultz has repeatedly praised Trump's political acumen while downplaying accusations of Russian interference in the 2016 election.
Schultz also brushed off Russia's annexation of Crimea, and defended Vladimir Putin as working to improve Russia.
Yeah, apparently by robbing the country blind, and subjugating it's people.
True confession time, Ed Schultz was NEVER among my favorite MSNBC hosts.
In fact I typically skipped his show, and when I was invited to meet him when he came up here I said I couldn't cause I was washing my hair.
But still I thought that he had some integrity, with his whole defend the middle class shtick.
But now that looks like it was all bullshit.
Hey I understand having to make a living (I've done some shit to make money that we are not going to discuss here.), but to completely sell out like this is pathetic.
At least when Keith Olbermann left MSNBC he managed to maintain his ideological credibility.